North Georgetown overpowers rivals
-records tumble on final day
By Emmerson Campbell
The rain at the Providence National Stadium did not put a damper on yesterday's events as Stephan James and other athletes set the track ablaze with their record breaking performances which saw North Georgetown triumphing.
One day after smashing Keith Roberts' decade-old 200-metre record, James, the 2012 under-23 400m South America's bronze medallist broke former national athlete, Tai Payne's 10-year-old 400-metre under-20 record en route to winning his third gold medal of this year's 52nd annual National Schools Cycling, Swimming and Track and Field Championships which culminated yesterday.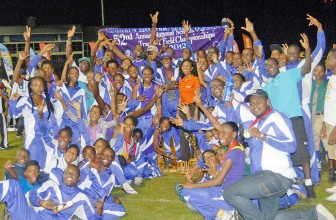 James, who also won the 100-metre event on Wednesday, completed the sweep of the three sprint events yesterday when he ran a blistering 49.8 seconds to break Payne's quarter-mile record by one hundredth of a second.
The 19-year-old sprint sensation's performances coupled with other outstanding runs from his District 11 mates, enabled North Georgetown to regain the Champions of Champions trophy from last year's winner, District 10, Upper Demerara Kwakwani.
North Georgetown amassed 72 points. Upper Demerara Kwakwani was second with 65 points while District Three, West Demerara, finished third on 51 points.
North Georgetown also won the Swimming and the Teachers' Championships, while Upper Demerara won the Track and Field. District Six, Corentyne, rode off with the Cycling Championships.
The following are the athletes who rewrote the record books yesterday with their outstanding performances: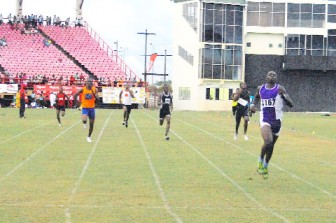 District 10's Cassie George under 14 girls 400-metre (one minutes, two seconds), District 11's Jevina Sampson under 16 girls 400-metre (58.8 seconds), District Four, East Coast Demerara's Jason Yaw under 16 boys 400-metre (51.8 seconds), District 15, New Amsterdam's  Melissa Byass under 18 girls 400-metre (one minute) and District 10's Shaquille Smart under-18 boys 400-metre (51.3 seconds).
At the completion of yesterday's activities, President of the Guyana Teachers Union, (GTU) Colin Bynoe praised the athletes and stated that he was elated that the championship was "a record breaking one".
According to Bynoe, a total of 30 records were shattered in the four-day event.
Bynoe also said that at the end of next week he will sit down with his team to short-list athletes for whom he would subsequently urge the government to pay special interest in as he is of the opinion that with support these athletes will represent Guyana at the 2016 Olympics in Brazil.
2002 Commonwealth 400-metre gold medallist, Aliann Pompey, national 1500 and 5000-metre record holder Cleveland Ford and several former and active national athletes were in attendance.
Sponsors for the championships included Giftland Office Max under the Asics brand, Banks DIH Limited, Courts, DDL and the main sponsor Digicel.