Hikers, Toronto Academy clinch hockey titles
By Iva Wharton
The 2012 Diamond Mineral Water Indoor Hockey Tournament concluded last night with first-time participants Toronto Academy walking away with the ladies title, while Hikers won the Veterans and Men's categories. The tournament was played at the National Gymnasium.
In the first final, Hikers defeated GCC 5-4 after a go-ahead goal from Tristan Gomes in the 45th minute. Other scorers for Hikers were: Brian Asgregado in the 1st minute, two goals were scored by Devin Munroe in the 5th and 26th minutes followed by Sheldon Corlette in the 33rd.
The scorers for GCC were Phillip Fernandes in the 10th minute, Alan Fernandes in the 13th and 31st minutes while Devin Hooper scored their last goal in the 38th minute.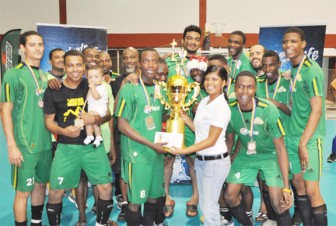 In the second final between the Trinidadians and Canadians, the Canadians proved to be the better team with their 6-2 defeat of Magnolias. This is the Toronto Academy's first time in the championship.  The scorers for the Toronto Academy were: Ally Evanyshyn with three goals in the 8th, 12th and 27th minutes, Chelcie Mendonca in the 22nd minute and a double from Kaelan Watson in the 26th and 29th minutes.
Mika Tang and Stacey Butts scored for Magnolias in the 2nd and 13th minutes.  At half time the score was two-all however, that changed in the second half of the competition when the Canadian ladies returned to the court.  Five-time champions Hikers defeated GCC to win the men's final by a 3-1 margin. Jerazeno Bell in the 20th minute, Robert France in the 36th minute followed by Aroydy Branford in the 38th minute were the scorers for Hikers. Orlando Semple in the last minute of the game, managed to score one for GCC.  It was a struggle for GCC and they just could not find the net despite their best efforts.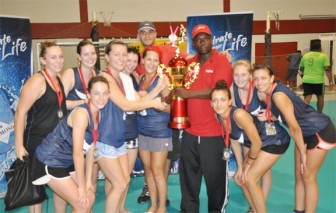 Apart from cash prizes and trophies, several individual prizes were also awarded to the Most Goal Scorers: Phillip Fernandes with 8 goals in the veteran's category, Robert France of Hikers also with 8 goals in the Men's and Stacey Sue Butt of Magnolias with 18 goals in the ladies category.
Most Valuable Players were: Devin Munroe of Hikers, Rohan Thomas of YMCA and Stacey Sue Butt of Magnolias.
The Best Goalkeepers were: Azad DeAbreu of Hikers, Pradeep Kumar of GCC and Alysia Xavier of GCC.