Rice farmer to take legal action against police over detention of wife
A West Berbice rice farmer is taking legal action against the police at the Fort Wellington Station for the detention and harassment of his wife two Sundays ago.
Abdool Sahim Rahim of Bush Lot told Stabroek News that his wife, Zaleena Rahim was kept at the station from around 7 am to 6:10 pm on January 27 and the police have still not told her what offence she allegedly committed.
She questioned the police on why they locked her up and "he tell me,'me like to see you here; me like see yuh face'…"  He also asked me when my husband gone to the backdam who does stay with me."
Explaining what led to the lock-up, Rahim said he went to pick up his worker, Dave Diaram in another section of the village when a cattle farmer threw fertilizer in his eyes and attempted to hit him with a piece of wood. This resulted in an altercation.
His worker's wife, Nazeema Mohamed was also detained from 7 am to 5 pm, even though her three children, ages 9, 2 and a one-year-old who breastfeeds, were left unprotected.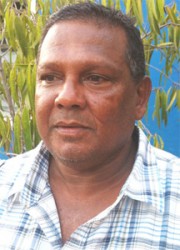 Rahim said he and Diaram were also wrongfully detained for four days and he was eventually released on $200,000 station bail. He, too, felt he was being punished twice – by losing his rice and by being wrongfully locked up because of the false report that the other farmer made.
Rahim, a US citizen, invested millions of dollars in his rice farm and a rice mill that would soon start operating. He stated that the cattle farmer was angry because the previous day he caught his cows destroying a huge portion of his rice land and he had "penned them up."
He has also been engaged in a court battle with the cattle farmer after his cows destroyed 40 acres of his rice two years ago.
Rahim said he was in a hurry to go to check his rice in the Abary Creek so he called the station and told them about the incident and also said that his wife would be accompanying the worker's wife, Nazeema Mohamed, who was a witness.
To their surprise, the cattle farmer got there before them and gave a different version of what transpired. He made an allegation that Rahim hit him with the gun and threw it to her.
In fact, Mohamed said, it was the cattle farmer who threatened to shoot Rahim and her husband when he meets them in the creek. Although she told the police that, they still allowed him to go free.
The frustrated Zaleena said it was a grave injustice that the police sided with the cattle farmer and punished them.
She told this newspaper that instead of taking their report, the police started asking them "weh de gun deh?" She and Mohamed insisted they did not "know anything about gun" but the police refused to listen and ordered them to go in two separate cells.
Before that, she said the police wrote their basic information on two forms which stated that they were being held for "possession for firearm." She questioned how that could be so when they had no firearm in their possession.
Mohamed had told this newspaper that despite pleading with the police several times they still did not let her go home to take care of her children, all boys.
She lamented that her children had nothing to eat and she had told the police officer that "pickney looking after pickney…"
According to her, "Me din cook fuh me children… Me din even mek a cup of tea fuh dem." A few hours later the police took her to her little shack and "me ask them, babe ayo eat? And them say no and me tek the lil one and nurse he."
The police went to her home in search of a gun. "Me tell them officer you can check me big palace and see if you find any gun…." Even though the police came up empty-handed, she was still taken to the station again and not released until 5 pm.
Rahim said the police went down to the creek the same day to search his house there for a gun and to arrest him and his worker.
He also said that one of the officers, a detective whom he had a problem with four years ago, walked into his house, went straight to a ledge and picked up a cartridge.
He insisted that the cartridge did not belong to him and he did not even know it was there. He pointed out that if that were the case, he had enough time when he saw the police coming from a distance to remove it.
He said the detective kept asking him and the worker for the "gun for the cartridge." He also started to slap his worker on his head and accused him of "covering for your boss-man."
Rahim also felt that the police wanted to extort money out of him because they kept lamenting that: "one, me gon spend three days in lock-ups, two, ah would spend one week on remand and three, I would go to jail."
"I figured that they were trying to scare me with the lengthy process and that they wanted a bribe. So I told them 'and four, five and six, I would come out…'"