Jagdeo conferred with award by Brazilian state of Roraima
On Friday, former President Bharrat Jagdeo was conferred with the highest honour of the State of Roraima, Brazil, the Order of Merit 'Forte Sao Joaquim'.
GINA said that in the citation, the Governor of the State,  Jose Anchieta Junior said the award was given for personal achievements, and for the strengthening of ties between Brazil and Guyana.
While as President, GINA said that Jagdeo advocated for stronger south-south cooperation and for strengthening alliances. Guyana also signed a Partial Scope Agreement with Brazil that made way for Guyanese goods entering the Brazilian market such as fruits, and agricultural, construction and mining products.
Relations with Brazil were further enhanced with the inauguration of the Takutu River Bridge on September 14, 2009. GINA noted that at that ceremony, the  two countries signed eight agreements, Memoranda of Understanding and Executive Programme, which addressed areas such as the promotion of trade and investment.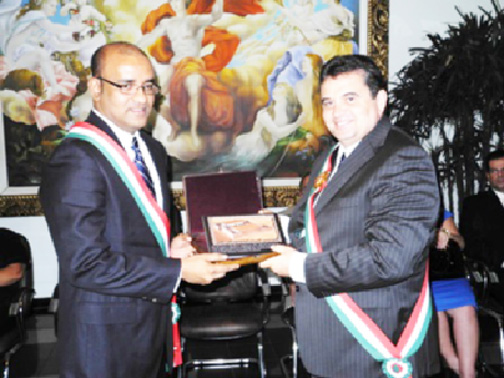 Anchieta had stirred controversy here in 2011 when he appeared on a PPP/C platform at Lethem and endorsed the ruling party for the elections. Both Jagdeo and President Donald Ramotar were present at the time. The opposition had condemned the governor's appearance and the controversy prompted a statement from the Brazilian embassy which said
"The Embassy of Brazil wishes to clarify the circumstances of the visit of His Excellency the Governor of the State of Roraima, José de Anchieta Junior, to Lethem on Sunday, 6th November, 2011.
"When the Governor learned about President Jagdeo's visit to Lethem he took the opportunity to visit him in order to discuss subjects related to the border as well as the integration between Roraima and Guyana.
"Governor Anchieta also had the chance to meet Donald Ramotar at a courtesy meeting. The Governor took the initiative to salute the community attending the meeting, residents of both Lethem and Bonfim.
"The Embassy of Brazil also reiterates the well known and traditional position of the Brazilian Government in favour of the principles of non-intervention and self-determination. Therefore, the Brazilian Government understands that Guyana -as well as any country- is entitled to choose their representatives in an independent, free and transparent way. Following this principle, the presence of a Brazilian authority to salute the communities at the above-mentioned meeting should not be construed as a support for any of the political parties contesting the forthcoming elections."
"The Brazilian Govern-ment expresses, therefore, its total neutrality and impartiality in the development of the electoral process in Guyana and expresses its best wishes and confidence in a successful outcome, as by all expected."
While the statement said that the governor was only saluting the communities he did go on to praise President Jagdeo and laud his achievements.