Mining School moving ahead with plans for mercury replacement regime
The recently established Guyana Geology and Mines Commission Mining School is seeking to raise levels of environmental sensitization across the local mining community by including environmental training as one of the core areas on its curriculum, the School's Coordinator John Applewhite-Hercules has told Stabroek Business.
The local mining sector official revealed in an interview with this newspaper that the Mining School is part of a current initiative supported by the Inter-American Development Bank (IDB) and local mining sector stakeholders under which consultants are being recruited to undertake an assessment of the environmental conditions in the local mining sector as it pertains to the use and prevalence of mercury in mining communities. Applewhite – Hercules told Stabroek Business that the initiative seeks to arrive at a determination regarding  the most suitable non-mercury recovery devices for specific mining area in Guyana.  "We will also be assessing how these materials will be effective and efficient with respect to mining and studying the costs/benefits of utilizing the materials," the GGMC official said.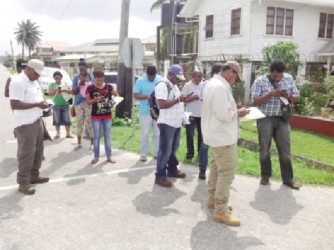 The need for the local gold mining sector to address the question of the use of mercury in the gold mining process has come into sharp focus over the past few years in the light of commitments to more stringent environmental management made by the Government of Guyana as well as the advent of key international conventions pertaining to the use of mercury in the mining sector.
In October 2013, the Government of Guyana signed on to the Minamata Convention, a globally binding treaty that seeks to prevent emissions and releases of mercury into the environment and places restrictions on a range of products, processes and industries where mercury is used, released or emitted. The Treaty also addresses the mining, export and import of mercury and safe storage and disposal of waste mercury.
Hercules-Applewhite has told Stabroek Business, meanwhile, the terms of reference for the engagements with the consultants have already been completed and that July 23rd was the deadline for the consultants to submit their bids for the project. He said that he had been engaging the IDB and the GGMC's  Mineral Processing Unit through an existing official working group on mercury.
"We are collaborating and working together in such a way as to ensure that all the initiatives are taken in a manner that allows us to get where we want to go, which is in the direction of having something to roll out to the mining industry that miners can follow."
The mining official said that the consultants will be working alongside functionaries of the local Mineral Processing Unit "to develop a programme that will inform miners      as to how the sector is looking to go forward with the application of alternatives to mercury."
And according to Hercules-Applewhite the Mining School is also engaged in "other collaborative initiatives with IAST, the University of Guyana and the Guyana Gold and Diamond Miners Association aimed at addressing issues pertaining to the use of mercury in the mining sector. He said that one of the key roles of the mining school will be to utilize information garnered from its engagements with "the specialists" to "deliver curriculum, manuals that the Mining School can then utilize to convey information to miners through workshops and seminars."