Jaguar mauling victim undergoes plate implant
Jasmine Joseph, the three-year-old girl who was mauled by a jaguar on December 27, is recovering well after undergoing a plate implantation for a fractured skull.
This is according to the girl's mother, Desiree Joseph, who has temporarily moved into the Paediatric Ward of the Georgetown Public Hospital (GPH) to be closer to her daughter.
When Stabroek News visited Jasmine yesterday, the young girl was eating chocolate while playing with her mother. Desiree revealed that though her daughter is recovering well, there is still fear of infections. She was uncertain about when Jasmine, who has five siblings, would be released. She will, however, return to Isseneru after she has been released from the hospital.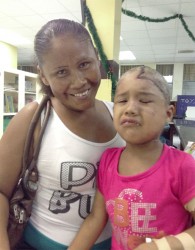 Jasmine was brutally attacked and dragged from the steps of her Isseneru, Region Seven home into nearby bushes by a jaguar after taking a bath in the Mazaruni River with her family.
With her head, torso and legs clawed by the wild animal, she was air-dashed to Georgetown for emergency medical attention.
According to reports from her grandmother Agatha Joseph, the attack was the second on Jasmine in less than a month. Desiree had been in the backdam at the time of the attack. The animal has been killed.
Most Read This Week