Labourer injured by falling zinc sheets
A construction worker, who was injured when a pile of zinc sheets fell on him on Sunday last at the Gafoor's Shopping Complex, Houston, East Bank Demerara is scheduled to undergo surgery at the Georgetown Public Hospital (GPH) on Friday.
Yajendra Lall, 19, of Strathspey, East Coast Demerara, sustained a broken leg and was knocked unconscious.
Lall told this newspaper that he sustained broken bones in his left leg in three different places and was scheduled to have an operation on Friday.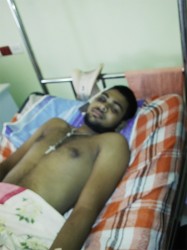 Lall was unable to say what caused the accident. He said he could not recognize anyone after he regained consciousness.
"I didn't even know who was my mother or anything," recounted Lall, when this newspaper spoke to him at the Male Surgical Ward of the GPH yesterday, where he is an admitted patient.
Lall was working with a contractor at the site to replace old zinc sheets at the time of the unfortunate incident. He said he was feeling much better than he was last week, when he regained full consciousness.
Most Read This Week