Core house initiative to go countrywide -President
-103 families benefit in Region Three
One hundred and three residents from several housing areas in Region Three were on Saturday presented with keys to their homes under the Government's core home initiative which targets single parents, the differently abled and the elderly.
A release from the Government Information Agency said that the homes were handed over in Westminster Phase One, Recht-Door-Zee, Phases one and two, and Onderneeming Phase One.
GINA said that President Donald Ramotar visited the areas and committed that this year the programme will be expanded in Regions 2, 3, 4, 5, 6 and the hinterland.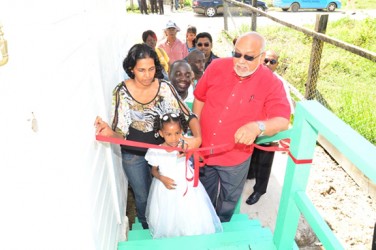 Starting in 2010, GINA said that applications were invited from interested allottees who had not occupied their house lots, as well as those who had occupied theirs but were living in buildings of low standards. One hundred and three met the eligibility criteria. GINA said that 228 core homes have been constructed thus far.
"I think it's extremely important, it is one of the most important social facilities that we are doing because it gives people security in our own homes, helps the children with their studies, and the families because there is no landlord and no house rent, so that they can plan their lives better," President Ramotar said.
"The core homes offer households an excellent opportunity to restructure their lifestyle," he stated.
The President also highlighted the hinterland housing drive which he says has impacted the lives of hundreds of Amerindians.
Minister of Housing and Water, Irfaan Ali said that the initiative complements several other programmes and it has resulted in a huge change in the housing sector.
The programme was also done as part of the Parfaite Harmonie Housing development which has about 8000 house lots. Minister Ali stated that thus far, more than 32,000 people have benefited from the housing programme in that area, GINA reported.
The 103 core homes were completed at an average cost of $2.9M each, which gives an overall cost of $300M with individual beneficiaries contributing $100,000 for the construction of their homes, GINA reported. Approximately 423 persons will be housed in the 103 homes.
The home is  a 330-square foot timber and concrete structure with no internal partition walls, except for the enclosed sanitary block comprising a toilet, and shower. It is elevated three feet from ground level and lends itself to expansion as the occupant is able to afford it. It is outfitted with a basic kitchen sink and electrical wiring and plumbing, GINA added.