Duo granted bail over theft of $8m mining equipment
Two interior workers were each granted $250,000 bail on Friday when they appeared before the Georgetown Magistrates' Courts charged with stealing over $8 million in equipment from a Mahdia dredge operator.
It is alleged that on January 28, at Noitgedacht backdam, Mahdia, Juan Samuels and Michael Edmondson stole a hydraulic pump valued $3.7 million, an excavator computer box valued $4.5 million, one drum of hydraulic oil valued $171,000 and two Power Master batteries valued $54,000.
According to Prosecutor Michael Grant, who presented the police's case the total value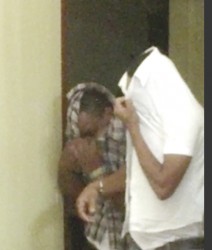 of the items was $8,425,000 and they were the property of Axiel Marcus.
The men were not required to plead.
It is the police's case that on the night in question, Samuels, 33, of Morabally Street, Linden and Edmondson, 27, of Kumaka Mines were seen next to an excavator and a parked 4X4 vehicle by a mechanic Marcus had hired to repair his broken down excavator.
According to Grant, after realizing that the mechanic had seen the mentioned stolen articles in the tray of the vehicle they were standing next to, Samuels and Edmondson jumped into the vehicle and drove away. A report was made at Mahdia, where the two were arrested and charged. Grant added that further investigations were conducted, but the items were not recovered.
Chief Magistrate Priya Sewnarine-Beharry, placed Edmondson and Samuels on $250,000 bail each, on the condition that they lodge their passports. There was no objection from Grant. The case was then transferred to the Mahdia Magistrates Court, where it will be called again on April 14.