GT&T donates $3.5M for children's costume parade
The Guyana Telephone and Telegraph Company (GT&T) yesterday donated $3,500,000 for the Ministry of Education's Children's Costume Parade 2014 which will be held on February 15.
The cheque was presented to the Chief Education Officer of the Ministry of Education Olato Sam at GT&T's head office at Brickdam.
It is the third year in a stretch the company has provided sponsorship to theyearly parade, which sees over 2,000 children on the streets dressed up in costumes as part of the Mashramani celebration.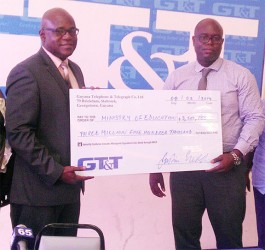 "GT&T prides itself as being a strong corporate citizen by actively participating and supporting activities," said the Chief Financial Officer of GT&T Justin Nedd.
Sam said the Education Ministry was extremely pleased that the company had stepped up to support their parade again. "We are really pleased to receive this generous contribution," he said.
Primary and secondary schools students have been actively preparing for the children's parade, he stated, while asking for support from the private sector and citizens.
Most Read This Week