Plaisance man on wounding charge accuses cops of shooting him, denying treatment
-magistrate orders probe
A Plaisance man, charged with wounding two men and behaving disorderly at a police outpost, has accused cops of shooting him and refusing him medical treatment while in custody.
Seon Prince, 38, of 19 Prince William Street, Plaisance, denied the charge that he unlawfully wounded Prince Harris and O'Neil James at Stabroek, Georgetown, on February 18. He also denied that on the same day, he behaved disorderly at the Stabroek Police Outpost.
Prince, who was barely able to walk when he appeared before city magistrate Geeta Chandan-Edmond, told the court that on February 24, he was behind the Stabroek Market when police officers approached him and told him that they were checking up on his behaviour.
He said they alleged that he pulled an ice pick on a man, which he refuted.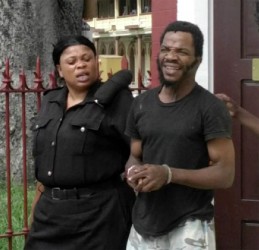 He also said that he was taken to the Stabroek Outpost, and asked to pay $10,000 bail. However, he said an offer to squash the case was made by an "Officer Mingo," in exchange for the $10,000.
Prince, who said all he had on him was three thousand, told the court that an argument broke out in the outpost, during which he admitted to speaking to the officer in a loud tone. Sometime during the argument, he said, the officer called a patrol and one of the officers allegedly shoved him and shot him in his right leg.
Prince said he was taken into custody afterwards and slapped with the two counts of unlawful wounding charges and the disorderly bahaviour charge.
After hearing what allegedly occurred, Magis-trate Chandan-Edmond ordered Police Prosecutor Jomo Nichols to inform his superior that she had ordered an investigation into Prince's allegations. She also granted Prince $40,000 bail.
The case will be called again on March 21 for trial.