Ashmins adds supermarket to store attractions
Ashmins Trading officially launched a supermarket at its High Street, Werk-en-Rust department store last Saturday.
Shelliza Allie, Marketing Supervisor of Ashmins Trading, told Stabroek News the new department was a sizable investment that is ongoing since additional works needed to be completed. She said the investment was a response to the growing demand from customers for a one-stop shop experience.
She said the idea to extend the mini-mart into a supermarket was discussed among the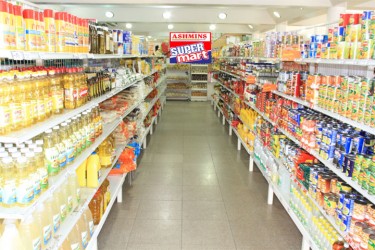 directors of the company in mid-2013. She further stated that an idea was pitched to have the supermarket merged with the household department to satisfy both needs for customers in one place.
She added that customers can expect a full supermarket experience, with a wider range of groceries and frozen meats and vegetables. She added that Ashmins was among a few elite department stores offering a full supermarket service.
"Now we can really term ourselves as a real department store because we offer all-round services to customers," she said.
She stated that most companies would sell their products 10 to 20 percent higher than the actual cost price, while Ashmins is prepared to offer customers products at five percent above the original price.
She also said the supermarket would be open every day to facilitate the working class  who are usually busy. From Mondays through Saturdays the store would be opened up to 8 pm while on Sundays the store would be opened until 5 pm.
She added that it was important for businesses to respond faster to the demand of the customers, while saying that Ashmins had met the demands of customers. She stated that Ashmins made the switch from a wholesale store to a retail store after demand grew.
She said the company intends to extend its department store with a wholesale drink depot. Over the years, the company has expanded into the tourism and real estate sectors by way of its Splashmins Fun Park and Resort and Madewini Villas Housing Development.