Teen charged with assaulting PM's son
The sister-in-law of Samuel Hinds Jnr, became emotional when she testified against him in a city court yesterday and she was later placed on self-bail after threatening language and assault charges were read to her.
Tenza Lane, 18, of 57 Roraima Housing Scheme, West Bank Demerara, who had been absent from the last court hearing, when the Prime Minister's son answered to unlawful wounding and threatening behaviour charges against her, took the stand in Court Ten of the Georgetown Magistrates' Courts.
Five minutes into her account of what transpired on March 27, at 83 Duke Street, Kingston, Lane broke down into tears. She was mentioning her sister at that time, who is to testify in the case. Lane was taken off the stand and afforded ten minutes to compose herself. However, when the matter reconvened, Lane continued, only to become emotional again. Constable Samantha Charles-Garraway also testified in the matter.
An unrepresented Lane, was also read two charges of threatening language against Hinds and her sister, Sonia Herbert as well as an assault charge against the Prime Minister's son.
Magistrate Sewnarine-Beharry told the court that she had asked members of Red Thread and Help and Shelter to assist Lane, with regard to the teenager succumbing to her emotions twice during court.
Karen de Souza of Red Thread appeared in court to support Lane when the charges against her were read yesterday afternoon. Lane was granted bail in the sum of $25,000, but she told the magistrate that she could not come up with the money, since she just started a job a week ago.
With no objections from Police Prosecutor, Cadet Officer Collin Primus, who was holding for Police Prosecutor Jomo Nichols, Lane was placed on her own recognisance.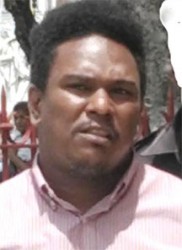 It is alleged that on February 27, Hinds Jnr, 33, of Lot 83 Duke Street, Kingston beat Lane with a cane and threatened her with a gun. The court was told that during the incident, Hinds called Lane a thief, threw her to the ground, stamped her in the face and dragged her by her hair around the house.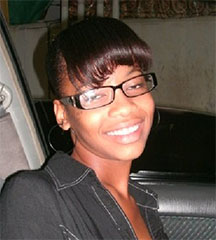 Hinds is currently on $150,000 bail, after he consented to lodging his firearm and staying 200 yards away from Lane and all other witnesses in the matter. He was represented by Peter Hugh at yesterday's hearing.
Both parties are on a bond to keep the peace.
The matters will be called again on March 25 for the continuation of trial.