No soil test was required for medium, high rise buildings before January 2014 – King
The submission of soil tests was not a requirement for high and medium rise buildings that were under construction prior to January 2014, according to City Council Public Relations Officer Royston King.
King made the disclosure in an invited comment in response to comments made by Vice Chairman of the City Works Committee Anthony Boyce, in a letter published in the April 2, 2014 edition of Stabroek News.
In his letter, Boyce questioned whether soil tests were submitted to the City Engineer's Department for a five-storey building currently under construction at Robb and Camp Streets.
According to King, because the construction work started prior to January, 2014, the developer would not have been required to submit the soil tests. "As I understand it, this requirement was implemented from January 1st, 2014. Therefore those high rise buildings that would have been constructed prior to that time would not have had to submit that requirement," he asserted.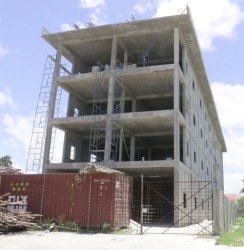 In February, City Engineer Colvern Venture had said that as of January 1, 2014, persons seeking to construct buildings a minimum of three storeys tall must submit a technical report along with the foundation design because of the large number of sinking buildings in Georgetown. Venture had explained that before, only a foundation design was submitted.
Another issue that was highlighted by Boyce was that of a five storey building under construction at Lot 260 Forshaw Street, Queenstown. "In this case the developers have no approved plan, none whatsoever from the council. They were taken to court by the council because they were served with a cease order from the engineer's department to cease all building works and to submit all the necessary documents in relation to carrying on the present construction, but they did not comply.
"They attended court and after several appearances the matter was withdrawn or dismissed, owing to the fact that no prosecutor or any representative of the council [engineer's department] attended court. To date the developers are continuing to construct the said building, even working at nights.
This is high lawlessness encouraged by the engineer's department, not only in the case of this particular building, but also with many others with different forms of violation," he added.
However, Stabroek News understands that work was halted on the building in February and no one was at the site yesterday when a visit was made to it.
King told this newspaper that the matter was discussed at a recent statutory meeting. "That matter was examined three statutory meetings ago and full council examined that matter and gave certain express instructions to the City Engineer. I am aware that those instructions are being carried out by the engineer," he said.
It was also stated that those developers who fail to provide the necessary documentation to raise buildings more than three storeys will face financial and legal penalties.
King added that building plans do not have to be displayed at the construction site, but that contractors should have the plan with them on the site so that if a building inspector turns up to inspect the building works, he can refer to the approved plan.
Boyce had also contended that a building plan "should not take more than three months to complete its process," but a source said that because of the numerous steps involved, it takes a total of four months or more in some cases.
According to the source, the procedure entails submitting a plan/application to the Mayor and City Council and collecting a number, submitting the plans and collecting a slip to make payments to the City Treasurer's Office. The plans are then sent to the Medical Officer at the Health and Sewerage Department for processing and returned to the applicant after processing. Plans are then sent to the building inspector for a site inspection and those that are in order are then sent to the City Engineer for approval  to be forwarded to the Central Housing and Planning Authority for final processing.
Meanwhile, King expressed surprise at Boyce's letter, explaining that there are internal systems for the smooth flow of information on such matters between the various departments and the committee, including the city works committee. "All councillors have the right to request and obtain information on any and every aspect of the general and specific responsibility of council," he said.
Most Read This Week