Newly-wed gold chain thief fined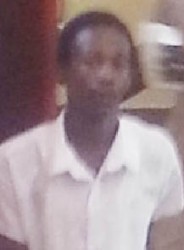 Ceon Maynard who was charged earlier this year with robbing a man of his gold chain, was fined $75 000 last week after he was found guilty of the offence.
Magistrate Fabayo Azore announced her verdict when the newly-wed 21-year-old appeared before her at the Georgetown Magistrate's Court. The magistrate said that after careful consideration of the facts presented and the testimonies heard, she believed Maynard was guilty. She acknowledged that even though the victim only saw Maynard for a few seconds, the fact that the gold chain was found in his mouth after he was caught by the police was convincing.
Maynard, who was fined $75,000 with an alternative of six months imprisonment, stole the necklace from the victim while they were travelling in a bus. He then attempted to escape but was caught after the victim and a policeman accosted him. Maynard was subsequently charged.