Commonwealth Deputy Head here for talks
-local gov't polls, anti-laundering legislation raised
The Commonwealth's Deputy Secretary General, Deodat Maharaj is in Guyana and has met with President Donald Ramotar and opposition leaders for talks on a range of issues including local government elections.
Maharaj is primarily here to discuss how his organization can assist in economic and development matters here.
"They were here to expand the operation of the Commonwealth Secretariat … they briefed us on their development goals and said they are here to have a conversation with stakeholders and to see how they can assist the region and particularly Guyana in economic matters," APNU MP Joe Harmon told Stabroek News last night.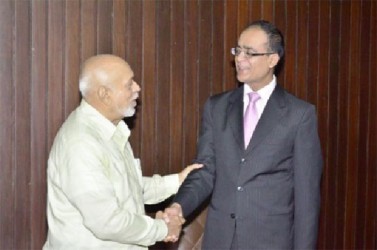 Harmon said that while local government elections and other issues were discussed, Maharaj who was accompanied by the Commonwealth's Caribbean and Pacific Political Affairs Advisor, Tafawa Williams, stated that they were not interested in local politics.
A government official told Stabroek News that the duo also met with President Ramotar and spoke about local government elections here and the anti-money laundering legislation.
Developmental and economic matters were also discussed but decisions on the implementation of programmes discussed will be announced after Maharaj, a Trinidadian, returns and the Commonwealth grants its approval. The team also met with leaders of the Alliance for Change.
With the Commonwealth playing a role in times past in assisting in the drafting of legislation here, that area was also discussed with the organization agreeing again to help facilitate this process if needs be.
The visit comes at a particularly delicate time for the government which has come under swingeing pressure to hold local government elections. The minority government also faces the possibility of a no-confidence motion in Parliament over alleged illegal spending by Finance Minister Dr Ashni Singh. Successfully moved, the no-confidence motion could trigger fresh general elections.
The withholding of local government elections recently saw British High Commissioner to Guyana Andrew Ayre saying that Guyana was in breach of the Commonwealth Charter. The opposition has since said that a petition will be prepared for the Commonwealth on this matter.
The officials leave today.