Tiger Bay teen jailed for 50 months over armed robbery
A Tiger Bay teenager who admitted to holding a couple at knife-point at the Promenade Gardens and robbing them of almost $300,000 in cash, jewellery and smartphones, was sentenced to 50 months imprisonment yesterday at the Georgetown Magistrates' Courts.
Dwayne Christopher, 17, of Lot 12 A Rosemary Lane, who initially pleaded not guilty when he was arraigned on May 12, later accepted that on May 1, at Middle Street he and another person, both armed with knives, pounced on Nicquan Nester and Kerlyn Hyman.
According to the police's case, Christopher stole a gold band valued $80,000, a gold ring valued $70,000, a $60,000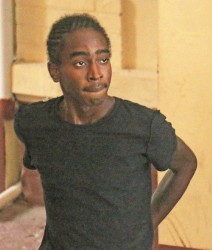 BlackBerry smartphone and $5,000, all the property of Nester.
According to Police Prosecutor Joel Ricknauth, the bandits then turned to Hyman and stole her $50,000 BlackBerry, $4,500 purse, a gold chain valued at $16,000 and $7,000.
On June 17, Christopher pleaded guilty to the two counts of armed robbery and the case was adjourned until an ordered probation report was submitted to the court.
Yesterday the probation report stated that persons in Christopher's neighbourhood opined that he was not a bad person.
Christopher before his sentencing asked Magis-trate Judy Latchman for "another chance," in spite of breaking a two-year bond, he had been placed on over a similar offence.
However, the Magis-trate ruled that the teenager be imprisoned for 50 months on each count. However the sentences are to be served concurrently.