Parliament social services committee visits Mabaruma Hospital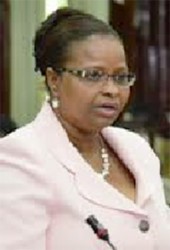 The Parliamentary Sectoral Committee on Social Services which has been visiting various public sector institution recently placed the Mabaruma Regional Hospital under scrutiny.
The committee met and interacted with occupants and staff and toured the facilities of the hospital in order to assess the services provided.
The group which undertook the visit included Chairperson Volda Lawrence, Mabel Baveghems, Renita Williams all of APNU along with Valerie Garrido-Lowe of the AFC and four support staff from the Parliament Office.
The chairperson said a press release on the findings of the visit will be made available shortly.
The committee has the responsibility to scrutinise and examine policies and administration for each sector under its purview and to determine whether they are in consonance with the principles of good governance.
It also examines whether institutions are equipped to meet their mandate and looks to see what recommendations for improvements it can make.
It previously visited the Amerindian Hostel, the East La Penitence Female Lockups, the Sophia Children's Centre and the Juvenile Holding Centre on June 13.