School of Agriculture yields 120 graduates
One hundred and twenty persons including 55 females on Friday graduated from the Guyana School of Agriculture (GSA) with diplomas and certificates.
The students, from the GSA's Mon Repos and Essequibo campuses completed courses in agriculture, animal health, and forestry and for the first time, agro-processing. During the graduation exercise, GSA's relevance in the changing agricultural and development setting was highlighted, the Government Information Agency (GINA) reported.
This is the institution's 50th anniversary and graduation exercise and it has been playing a leading role in agriculture education in Guyana and in the Caribbean in building capacity, GINA said while noting that one of the graduates is a scholarship student from St Vincent and the Grenadines.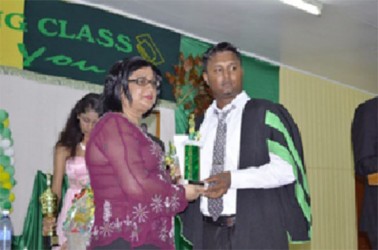 In delivering the keynote address, Minister of Agriculture Dr. Leslie Ramsammy said that the 50th class was testament to the strength of the institution. "For those of you graduating today, you should feel a sense of pride that you are graduating from a school that has a long and good history, and you will add to its reputation," he was quoted as saying. "I look forward to seeing many of you contributing to the success of agriculture in our country," he added.
GINA reported that government is investing $1.2 million per student per year at the GSA. The report said that at the GSA and at the Guyana Sugar Corporation's Training Centre at Port Mourant, government is investing approximately $600 million in the training of young people to participate in the development of agriculture.
"We see agriculture as a vehicle to accelerate our development. Agriculture has been responsible for bringing Guyana as a least developing country to low middle income country. It is now time that we move towards a high middle income country and I am confident that agriculture is the vehicle that will take us there," Ramsammy said. Government recognises that unless it develops its human resources, "the potential of agriculture to rapidly bring our country to another level of development (high middle income country) will not happen," he added, according to GINA.
GINA reported that the school has introduced a number of new courses. "To satisfy the skill of the agro-processing sector, and as well to provide students with skills to establish their own enterprises, a new one-year certificate in agro-processing was introduced for the academic year 2013-2014," the report said.
Meantime, a new course in theoretical and practical aspects of the operation of tractors was also introduced. In addition, two short courses -the operation, repairs and maintenance of small equipment which targets field workers, technicians and farmers; and urban agriculture techniques in grow box/hydroponics targeting women involved in urban farming, field technicians and teachers have been added to the curriculum.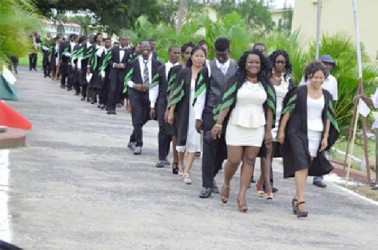 Ramsammy challenged the GSA's management to commit to further developing the curriculum and to introduce new courses and further distance learning for the school. He posited that the various farms operated by the Guyana Livestock Development Authority and the National Agricultural Research and Extension Institute can serve as attachment centres for the students, who could be facilitated in short specialist courses such as the management of black sigatoka disease and red palm mites, GINA said.
Meanwhile, the graduates were charged to set ablaze the modernisation of agriculture by Country Representative of the Inter-American Institution for Cooperation on Agricu-lture Wilmot Garnett. "Those of you from the rural communities, remember you are privileged to be selected to lead and empower especially our small farmers. You have been educated to modernise agriculture," Garnett was quoted as saying.
He noted that the GSA has done its part in ensuring that students are well-rounded and ready to meet the challenges of agriculture. He encouraged the students to be steadfast in their approach and proactive in confronting these challenges, GINA reported. Garnett also urged the maintaining of zeal and professionalism and encouraged continued learning and networking to keep up to date on new technologies and practices.
This year's Chief Executive Officer's prize went to Hussain Ali. This award is given to the best graduating student in any of the two-year programmes offered by the institution at its Mon Repos campus. The Chairman's Prize (the best graduating student in any of the two programmes offered by the institution at its Essequibo campus) went to Benny Augustus, GINA reported.