Driver charged with causing biker's death
Linden resident Dexter Phil was yesterday released on $400,000 bail after denying a charge that he caused the death of a motorcyclist as a result of a collision at Friendship, East Bank Demerara.
Phil, 24, of Wisroc, Linden, pleaded not guilty to the charge that stated that he drove motor vehicle PPP 3299 in a manner dangerous to the public and caused the death of Dellon Michael Harlequin, at Friendship Public Road, East Bank Demerara, on August 12.
It is the prosecution's case that Phil, at approximately 8:15pm on the day in question,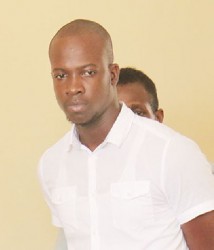 at Friendship Public Road, in the vicinity of the GuyOil Gas Station, was driving his car proceeding south along the eastern side of the carriageway when he collided with Harlequin, who was riding his motorcycle in the opposite direction.
According to Police Pro-secutor Assistant Super-intendent Deneashwar Maindranauth, the left side front of the car collided with the front of the motorcycle, which was proceeding at a fast rate. Maindranauth said as a result of the collision, Harlequin received injuries and was rushed to the Diamond Diagnostic Centre. He later succumbed to his injuries.
Phil's attorney Leslie Sobers, on the other hand, told the court that he was advised by his client that the accident occurred in the gas station. He said if that turns out to be the case, it would take the matter from under the Traffic Act. In seeking bail, he mentioned that his client was willing to lodge his passport with the court and report to the police.
However, Maindranauth objected to bail on the ground that Phil may flee the jurisdiction.
In spite of the objection, Magistrate Ann McLennan granted Phil $400,000 bail and ordered that he lodge his passport with the court as well as report to the Mackenzie Police Station every Monday, until the conclusion of the matter.
The case was subsequently adjourned until October 22.