Boxing workshop gets underway
The five-day workshop conducted by International Boxing Association (AIBA) certified referee/ judge, James Beckles commenced yesterday at the Guyana Olympic Association (GOA) building geared towards improving the standard of refereeing and judging locally.
Beckles will be giving lectures on the use of the electronic scoring system that the Guyana Boxing Association (GBA) received from AIBA while at the World Boxing Championships in Kazakstan last October as well as practical demonstrations this weekend at the Andrew 'Six Head' Lewis Gym.
Before the workshop which starts at 10:00hrs and concludes 14:00hrs begun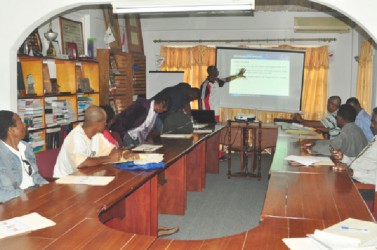 yesterday, president of the Guyana Boxing Association (GBA), Steve Ninvalle noted that "It is important that he (Beckles) is here since AIBA has made many rule changes, the aim of his visit is to raise the standard of refereeing and judging in Guyana.
Ninvalle who also welcomed the Trinidadian to Guyana added "we an association is indeed happy that we can have Mr. Beckles' services here again this is the third time here and it is important that you the participants become sponges an take in all the information that Mr. Beckles has to offer."
"The thing is that AIBA is changing its rules regularly and Mr. Beckles here is part and parcel of us as an association trying to keep you to date and afoot with what is going on in the international arena."
Ninvalle also thanked GOA's president, K. Juman Yassin for using the the GOA conference room to conduct the workshop and Director of Sport, Neil Kumar since "his (Beckles) visit here could not have been possible without the input of the National Sports Commission who has always put their shoulders to the wheel when it comes to amateur boxing in Guyana."
Kumar meanwhile congratulated the GBA for organising the seminar stating that "I think it is very important and I would like to say congrats to doing this early in the year and Mr. Beckles we welcome you here to Guyana again."
The Director of Sport also lauded the GBA since "this is the only organisation so far that has come out and given us a detailed plan on the road to Rio."
Beckles is scheduled to return to Trinidad and Tobago next Monday.