Slingerz Stag/Mashramani Champions Cup tourney to kick off next Sunday
The eight premier football clubs of West Demerara will battle for $500,000 and a trophy when Slingerz FC teams up with Ansa McAl to stage the second annual West Side Stag/ Mashramani Champion's Cup.
During the launch of the knockout tournament yesterday at Ansa McAl's head office, Beterverwag-ting, General Manager of the club, Colin 'BL' Aaron stated that last year's edition was to celebrate the birth of the club but this year's competition is to celebrate the club's first anniversary.
While giving an overview of the competition, to be held on four days, the Slingerz GM pointed out that since its inception a year ago, the club has since ascended to the hierarchy of local club football which culminated with them lifting the GFA/Banks Beer Champion's trophy on New Year's Day at the National Stadium.
Aaron also revealed that the playing days for the tournament are February 16, 21, 24 and March 1 at the Uitvlugt Community Centre and Dem Amstel Grounds. Kick off time is 18:00hrs.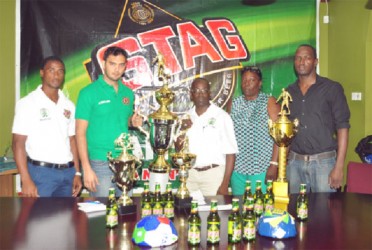 The sum of $250,000 will go to the second place team while the third and fourth placed clubs will pocket $150,000 and $100,000 respectively.
There will also be a special award for the MVP.
The clubs vying for supremacy are Slingerz FC, Bagotville FC, Eagles FC, Young Achievers FC, Den Amstel FC, Stewartville FC, Pouderoyen FC and Uitvlugt FC.
Stag Beer Brand Manager John Maikoo stated that it "is great opportunity to partner with Slingerz once again. Last year was very productive and we look forward to partnering with this tournament once again."
National player and captain of Slingerz FC, Vurlon Mills says he expects an exciting and competitive tournament which will be played under the FIFA's motto: Fair Play.
President of the West Demerara Football Association (WDFA), Christine Schmidt wished the tournament success and also mentioned that she was happy that Slingerz "came on board once again."
Fixtures for the tournament will be released on Monday. (Emmerson Campbell)
Most Read This Week