GABF launches lucrative club tournament
In an effort to reignite the basketball flame, the Guyana Amateur Basketball Federation (GABF) on Friday launched what is billed to be the nation's biggest basketball tournament.
Dubbed "The Road to Mecca', the competition which was launched at Duke Lodge will see the premier clubs vying for the first prize of $800,000 when it bounces off on March 1 at the Cliff Anderson Sports Hall.
President of the federation, Nigel Hinds said at the launch that the event was the brainchild of Vice President, Michael Singh. He also disclosed that the GABF will be leaving no stone unturned in order to restore the hype for the sport.
Hinds encouraged the players and clubs to invite their friends and families in order to rebuild the fan base. The GABF head also urged the three sub-associations (Georgetown, Berbice and Linden) to throw their support behind the highly anticipated event.
The tournament features the top five seeded clubs from the three sub-associations and also a wildcard club in a round of 16 knockout format.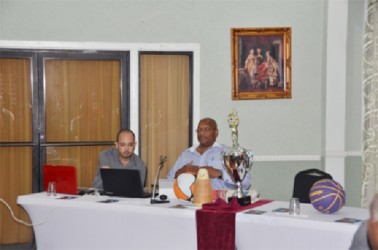 Trinity Grid Holdings Pacesetters, Colts, Pepsi Sonics, Ravens and Nets are the city based clubs according to seeding while Kings, Jets, Royals, Raiders and Bulls will represent the Mining Town of Linden. Berbice will be represented by Canje Knights, Smythfield Rockers, New Amsterdam Warriors, Fyrish Sharks and Rose Hall Town. The 16th (final spot) will be up for the taking in a wild card playoff involving the three sub-associations.
The second place club is set to pocket $200,000 while third place incentive is yet to be decided.
During Friday's launch, discipline and punctuality of the clubs were also discussed. Lugard Mohan, president of the Guyana Basketball Officials Council, was in attendance and stated that the council will ensure that the rules are enforced.
Before the launch got underway, there was a minute's silence for the late Trevor Rose who was a former president of the Georgetown Amateur Basketball Association. (Emmerson Campbell)
Most Read This Week