B/ballers begin trip to Mecca today
-Four matches at CASH as Club Championships commence
The Guyana Amateur Basketball Federation (GABF) under new president Nigel Hinds will from today stage its first tournament at the Cliff Anderson Sports Hall from 6pm.
Hinds, the former national basketball and hockey player, who recently won the presidency, and vice president and president of the Georgetown Amateur Basketball Association (GABA) Mike Singh, are the driving force behind the 16-team tournament which has at stake a first prize of one million dollars.
The tournament dubbed the `Road to Mecca' was launched on Thursday at the National Communications Network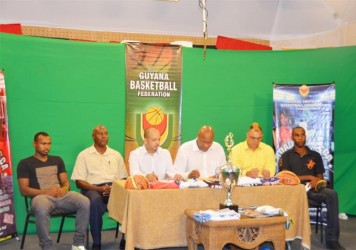 on Homestretch Avenue where Hinds gave a bit of insight as to the reasons for staging the tournament.
According to Hinds, the competition is being used to identify players so that the GABF can select the best players to represent Guyana at international engagements such as the CARICOM basketball championships.
Hinds posited the view that the sport can expand with the involvement of the media.
Matches will also be played tomorrow and March 9 while the semi-finals are fixed for March 16.
The tournament will conclude with the grand final on March 23.
Patrons will be treated to $50,000 nightly giveaways, with an affordable entrance fee of $500 for the first set of matches and $1000 for semifinals and finals.
Speaking at the press briefing Michael Singh, vice president of GABF stated that the Georgetown clubs were selected based on their seeding in the Georgetown Amateur Basketball Association (GABA) Super League tournament which concluded last May. Those clubs are Trinity Grid Holdings (TGI) Pacesetters, Colts, Pepsi Sonics, Dyna's Ravens and Republic Bank Nets.
According to Singh, similar tournaments were used to select the Berbice and Linden clubs while Plaisance Guardians received a wild card.
The Berbice clubs are Rose Hall Jammers, Smythfield Rockers, New Amsterdam Warriors, Canje Knights and Fyrish Black Sharks while the Linden clubs are Retrieve Raiders, Amelia's Ward Jets, Klass Kings, Victory Valley Royals and Half Mile Bulls.
When asked by Stabroek Sports why there was an absence of Essequibo clubs, Singh said that was because Essequibo is without an organization or an association. He, however, said that the GABF plans to expand nationwide so all three counties will be involved.
Four games will be played today and the fixtures are; Colts vs Rose Hall Jammers from 6pm, Smythfield Rockers vs Retrieve Raiders at 730pm, Ravens vs New Amsterdam Warriors at 9pm and Republic Bank Nets vs Klass Kings from 1030 pm.