Greaves wins Cheddi Jagan Memorial race
-despite third leg defeat by Godfrey Pollydore
Godfrey Pollydore out sprinted Alanzo Greaves to win the third and final leg of the Cheddi Jagan Memorial road race in a thrilling sprint finish yesterday in Essequibo, but Greaves' +consistency enabled him to lift the overall trophy of this year's event.
By virtue of a second place finish in the first leg, winning the second leg and placing second yesterday,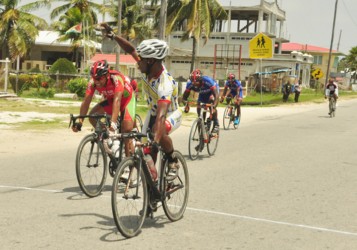 the Roraima Bikers Club standout was crowned this year's champion.
In yesterday's 55-mile trek, which pedaled off from Supenaam, proceeded to Charity and ended at Anna Regina, Pollydore won in two hours, 10 minutes and 24 seconds, led Greaves and last year's overall winner, Raynauth Jeffrey onto the podium.
Team United's Orville Hinds and Hamza Eastman were fourth and fifth respectively while Robin Persaud placed sixth.
Yesterday's race commenced as cool as the weather in the Cinderella County and there was not much theatrics on the upward journey.
When the wheelsmen turned back at Charity, Marlon 'Fishy' Williams had a slim lead ahead of a chase pack comprising Greaves, Jeffrey, Persaud and Eastman.
Hinds, Pollydore and winner of the third leg last year, Paul DeNobrega were lurking.
Greaves, Jeffrey, Persaud and Eastman however connected with Williams at Paradise and the five riders then started to play a game of 'cat and mouse'.
With the leaders toying with each other Hinds, Pollydore and DeNobrega managed to connect with the leaders about a mile from the finish.
The eight cyclists then journeyed together until about 200m to go.
At this point, a fierce sprint to the line ensued. Hinds had a slight lead at 100m. At 50m to go, Greaves was in the lead with Jeffrey on his wheels. But Pollydore powered past both riders to earn the win.
Michael Anthony who won the first stage was also a winner yesterday, but this time in the junior category.
Naomi Singh (female), Clyde Jacobs (Mountain Bike) and Eon Jackson (veteran) were also categorical winners yesterday.
Notes: The sum of 50 riders started in yesterday's race. The Memorial event is in its 17th year. It is held to commemorate the life and works of former president, Cheddi Berret Jagan.
Jagan would have celebrated his 96th birth anniversary on Saturday. The initial leg was staged on the roadways of West Demerara while the second leg was held in Berbice.
Yesterday's event was sponsored by S.Jagmohan Hardware Supplies and Constructing Services for the seventh consecutive year.