GOA boss disappointed with mediocre showing of boxers, athletes
—- aftermath of South American Games
President of the Guyana Olympic Association (GOA), K.Juman Yassin voiced his disappointment at the mediocre showing of the local athletes and pugilists that participated at the recently concluded South American Games in Santiago, Chile.
"I am disappointed in the performances with regards to the track," Juman Yassin stated yesterday at the GOA's headquarters. "I thought we could have done much better and I was not very pleased with regards to boxing either."
"Theresa London (boxer) I can excuse her because it was her first time and we do not have much female competition."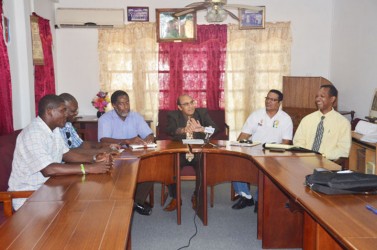 The GOA head added "Generally,we need to know where we are going, know the way forward and I think that the GOA and the AAG need to keep a keen eye on what's going on," he declared.
At the games, the three pugilists Dennis Thomas (0-3), Eon Bancroft (0-3) and London (KO) lost their initial bouts of the tournament while Alisha Fortune finished last in the women's 100m semis (12.29s) and failed to finish in the semis of the women's 200m.
The 2012 Olympian, Winston George, narrowly missed the podium with a fourth place finish in the men's 400m (46.15) and placed fifth in the men's 200m final in a time of 20.77s.
Cleveland Forde placed ninth in the 10-man field in the men's 5000m, clocking a pedestrian 15:19:69s for the event which was won by Chile's Victor Aravena in 14:06:02s while Wayne Harlequin (1:55:88s) and Cleveland Thomas (1:57:90s) then ran in ninth and 10th respectively in the half-mile event.
Brazil's Keiberson Davide took the gold in 1:45:30s.
Prior to the men's 800m, Harlequin placed last in the semis of the quarter-mile event.
This came on the heels of Thomas and Forde finishing eighth and ninth respectively in the final of the men's 1500m.