Persaud scorches field to win feature event
- Universal Auto Sales and General Supplies 11 race meet
In hot conditions at the National Park yesterday, Robin Persaud scorched a star-studded field of rival wheelsmen to emerge winner of the feature 35-lap event of the 10th annual Universal Auto Sales and General Supplies 11-race cycle programme.
The evergreen 39-year-old stopped the clock in one hour, 16 minutes and 17 seconds,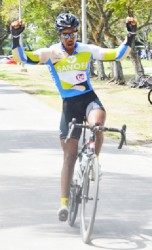 besting Team Roraima's Marlon 'Fishy' Williams and Team Coco's Raynauth Jeffrey who joined him on the podium.
It was Persaud's first victory of the season.
Williams and Jeffrey also carted off two sprint prizes each.
Team United standouts, Mario King and Albert Philander pedaled in fourth and fifth respectively while Jeffrey's club mate, Michael Anthony filled out the top six paid positions
Quick Results
Juveniles (10 laps)
1st) Cleveland King 2nd) Stepano Husbands 3rd) Akeem Arthur
Mountain Bikes
1st) Clyde Jacobs 2nd) Kester Croal 3rd) Rayon McLeod
BMX 12-14 Years (3laps)
1st) Ammo Gomes 2nd) Rashidi Ceres 3rd) Brighton John
BMX Open (3laps)
1st) Daniel Vossey 2nd) Rawle Small 3rd) Keon Rutrherford
BMX 12-14 Boys and Girls (3laps)
1st) Avish Ramkellewan 2nd) Omesh Leonard
Veteran's Under-50 Years (5laps)
1st) Stephen Fernandes 2nd) Kennard Lovell 3rd) Shameer Baksh
Veteran's Over-50 Years (5laps)
1st) Linden Blackman 2nd) Virgil Jones 3rd) Kevin Jeffrey
Veteran's Over-60 Years
1st) Anthony Farriah
BMX Boys 6-9 Years (2laps)
1st) Sherwin Sampson 2nd) Jeremiah Harrison 3rd) Alex Leung
BMX Boys 9-12 Years (3laps)
1st) Sherwin Sampson 2nd) Johnathan Jagdeo 3rd)              Thuran Garbarran
Notes: There were 35 starters for the feature event. Managing Director of Universal Auto Sales and General Supplies, Shameer Baksh pledged his continued support for the annual April fixture. Baksh along with organizer of the event, Hassan Mohamed, also congratulated the cyclists for making the programme a success.
The riders will now take their talents to the open roads of West Demerara this morning to compete in the 3rd annual Powerade 50-mile road race.