Brickdam Secondary beats Central High 7-0
Digicel national u-18 knockout football championship
Brickdam Secondary swamped Central High by a 7-0 score line when the fourth annual Digicel national u-18 knockout football championship continued yesterday at the Ministry of Education ground.
Dominic Barber opened the scoring for the winners in the 13th minute, deflecting the ball into the back of the net with his new form inside the left side of the area, after latching onto a right-sided corner kick which came cannoning off the crossbar and into his path.
It would become 2-0 seven minutes later when Malachi Adonis netted, compliments of a 26-yard right-footed lobbed shot into the back of the net from the centre of the field, after spotting the keeper off his goal-line. He would seal his double in the 36th minute, smashing his right- footed effort down the middle of the goal from within the right side of the penalty area. Denilson Rose would make the scores 4-0 in the 47th minute through a powerful 24-yard right-footed attempt into the left-hand corner of the goal, after collecting the ball within the centre of the park. An own goal in the 57th minute would further compound the lopsided encounter as the score line swelled to 5-0. Adonis completed his hat trick in the 75th minute, placing his right-footed shot into the lower left-hand corner of the net, after racing into the right-hand side of the penalty box. The win would then be sealed four minutes later when Daren Marks netted through a penalty kick conversion.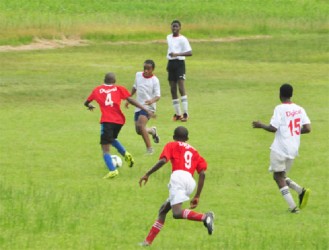 Over at the Skeldon Ground in Berbice, Berbice High School defeated home side Skeldon Secondary by a 3-0 margin. Mustifur Dolson opened the scoring for the winners with a 52nd minute effort. The lead was doubled eight minutes later when Kevin Sandy found the back of the net. The win would be completed in the 60th minute when Dolson netted his second.
In the Region Four zone, Craig Secondary will face off against Xenon Secondary at the Grove Community ground from 3.30pm while Stewartville Secondary will engage Goed Fortuin Secondary at the same time at the Uitvlugt ground in a Region Three matchup.
Over at the Kildonan ground, GuySuCo Training Centre will battle Manchester Secondary from 3.30pm in a Region Six zonal match-up while at the Rosignol ground, Belladrum Secondary will tackle Rosignol Secondary in a Region Five match-up at the same time.
In the Georgetown zone, Charlestown Secondary will face off against Kingston Secondary at the Ministry of Education ground and David Rose Secondary will battle Tucville Secondary at the Georgetown Football Club (GFC) ground. Both matches will start at 3.30pm.