DDL to sponsor GABA U16 tournament
For the third successive year, local conglomerate Demerara Distillers Limited (DDL) under its Gatorade and Pepsi brands will sponsor the Guyana Boxing Association (GBA) Under-16 tournaments.
During Thursday's press briefing at Distribution Services Limited at Industrial Site, Sales Manager, Larry Wills, along with president of the GBA, Steve Ninvalle, told media operatives that the company and the association will team up to box off two tournaments this year.
The first one will be staged on the last weekend of July at a venue to be announced while the second will box off in December.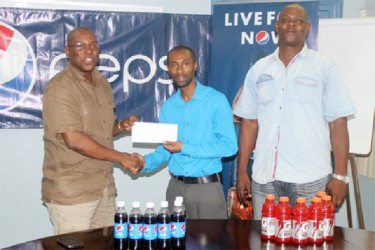 Wills stated that DDL was happy to continue sponsorship of the tournament since the company is seeing positive results.
"Since our launch in 2012 we have seen some of the boxers moving on to represent Guyana overseas and it shows that the initiative has a positive effect on our young boxers.
"We are pleased with the way the tournament has been organized and executed and we at DDL are once again pleased to partner with GBA and look forward to continuing the corporate relationship."
Wills also wished the tournament success and encouraged patrons to support the events.
Ninvalle told media operatives that he was… "heartened that we can continue to have the support of DDL because we have always said that our nursery is one of our most important departments and in the three years DDL has partnered with us we have seen extreme development within the under 16 level."
The GBA head then mentioned that only boxers attending school would be allowed to participate in the competition.
"As an association we understand that academics and sports should go hand-in-hand." Ninvalle also said that in the not too distant future, the competition "could have some international flavor," since Barbados has signaled interest in sending boxers to compete. Technical Director of the association, Terrence Poole, thanked DDL for once again sponsoring the tournament and pointed out that in excess of 60 amateur pugilists will compete for medals in the two-day competition.
He added that he expects to see Simon Pures from Young Achievers, Carryl Boxing Gym, Essequibo Boxing Gym, Harpy Eagles, Forgotten Youth Foundation (FYF), Guyana Defence Force (GDF), Rose Hall Jammers and the Pocket Rocket Boxing Gym as well as boxers from Bartica and Mahdia. (Emmerson Campbell)
Most Read This Week