TCL donates $200,000 to RHTYSC cricket academy
The Trinidad Cement Company (TCL) Thursday demonstrated its continued support to the third annual Rose Hall Town Youth and Sports Club (RHTYSC) Cricket Academy with a donation of $200,000.
RHTYSC Secretary/CEO Hilbert Foster and TCL Plant Manager Mark Bender lauded the academy for the positive results it has recorded over the years, at the brief presentation ceremony.
Bender said he was so impressed by the academy's results that he was pleased to again offer support. He also pointed out the all-round dimension of the programme, which not only focuses on cricket but touches on various academic areas, is essential in the quest to the development of the youths.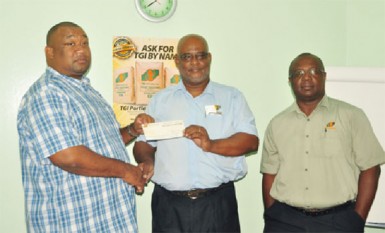 Foster said he was glad to have the company's continued support, adding that he hopes more youths can someday represent the county and country. He also announced that each participant will be entitled to school supplies during the stint at the academy.
Over the years the academy has produced international and national players such as the Crandon brothers, Royston and Esaun; Assad Fudadin, Shawn Pereira, Shemaine Campbell and others.
The programme is scheduled to be held from July 13-26 with 100 youths.