U-17 footballers for CFU Championships
As part of the Guyana Football Federation's (GFF) vision of success plan, the federation will be sending a national male under-17 team to the Dominican Republic later this month to compete in the Caribbean Football Union (CFU) Championships.
This and other details were disclosed by members of the coaching staff yesterday during a press briefing at GFF's Campbellville headquarters.
According to team manager, Joseph Simon "30 young men have been selected and we are hoping that they will compete and not just participate. We are hoping to go there and compete and make it to the next round."
The local outfit will be grouped with Barbados, Antigua and Barbuda and the host for the four-day championships which will kick off from July 18.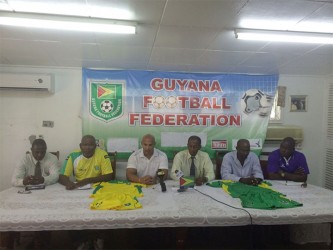 Ahead of the championships, Technical Director (TD), Mark Rodrigues is "extremely excited about our national under-17 team."
"We are extremely excited about our national under 17 team", Rodrigues stated. "We had a quick look at the boys this past weekend and I will tell you that the staff unanimously felt that they were an excellent looking outfit."
Rodrigues then expounded on the bigger developmental picture.
"This is all part and parcel of the GFF's vision of success plan that is being put into place for our youth in this country.
We are focusing on our youth development through programmes that we have to introduce and focusing on the younger generations so that our future can be solid and we will be indoctrinating the players into the philosophies and the guidelines we feel are the necessary building blocks to establish a sustainable national programme."
The TD added "This is just the starting process, this will continue with our U-13, U-15, U-21 and not forgetting our national team which is our flagship programme and which is what we look to build towards."
A two-week training camp will commence in three days at the Dawn Cari Hotel. During this period, the players selected from the GFA, Essequibo FA, EBFA, UDFA, WDFA, BFA and the Bartica FA will have to prove themselves worthy of earning a place in the final 18-man squad.
The contingent is expected to wing out on July 16. The team will be coached by Brian Joseph.