Eastman edges home in Malta Supreme feature event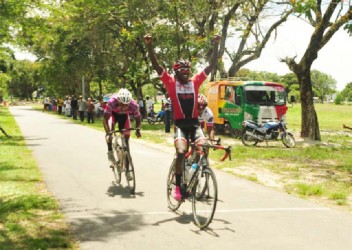 Team Coco's standout, Hamza Eastman edged Robin Persaud and Marlon 'Fishy' Williams to win the feature 35-lap event of the third annual Malta Supreme 11-race cycle programme in a thrilling three-man sprint finish.
In perfect conditions for racing at the National Park, 19-year-old Eastman took pole position in a scorching one hour, 15 minutes and 46 seconds, to lead the experienced duo onto the podium.
Team Alanis' Paul DeNobrega, Roraima Bikers Club, Jamal John and Team United's Mario King filled out the top six trophy winning positions.
In his second triumph of the season, the Team Coco's product also pocketed 12 sprint prizes.
The feature race started off at a fever pitch pace with the 27 starters jostling for lead positions. From the 20th lap however, the top three wheelsmen changed gears and separated from the rest of the riders and never relinquished their lead.
Eastman, Persaud and the work horse Williams rode in tandem to hold off valiant chases of the numerous pelotons until team work was thrown out the window with 200m to go. At this point, Eastman turned on the jets and was able to hold off his two break away mates.
Before the signature event, there were 10 other races.
Here is a summary of them:
Boys and Girls 12-14
Ammo Gomes, Brighton John, Christian Ragnauth
Veterans Over 50
Linden Blackman, Raymond Perry
Vets Under 50
Ralph Williams, Mark Sonaram, Jaikarran Sukhai
Veterans Over 60
Monty Parris, Maurice Fagundes
Juveniles
Stephano Husbands, Jamal John, Alonzo Ambrose
Mountain Bike
Keon Thomas, Adrian Sharma, Deeraj Garbarran
BMX Boys 6-9
Sherwin Sampson, Jeremiah Harrison, Alex Leung
BMX Boys 9-12
Sherwin Sampson, Richard Da Silva
BMX Boys 12-14
Thuran Garbarran
BMX Open
Adrian Sharma, Sherwin Forde, Kemuel Moses
At the completion of the programme, brief remarks were made by coordinator, Hassan Mohamed and Malta Supremes 'brand manager, Clayton McKenzie. The wheelsmen will return to the National Park this morning to compete in the lucrative United Bike Shop programme.
Today's event pedals off at 08:30hrs. (Emmerson Campbell)