David Francis de Caires, Executive Chairman of Guyana Publications Inc, and Editor-in-Chief of the Stabroek News, died on November 1, aged 70 years.
David de Caires devoted his entire professional life – first as a solicitor and later as an editor – to fighting indefatigably for freedom of expression. Some of that freedom was political and electoral but much more of it was intellectual and cultural.
He was born into a secure social and commercial class, the son and grandson of successful merchants. But, although his formal education was intended to prepare him to follow in his father's familiar footsteps, his vocation would lead him in an entirely different direction. Like his father Francis and uncle Herman before him, David de Caires was sent for his secondary education at the age of 12 years to a Roman Catholic Jesuit boarding school – the venerable 300-acre, 400-year-old Stonyhurst College in Lancashire, England.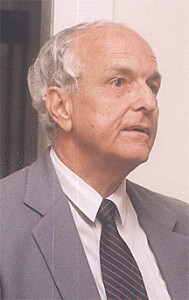 At the heart of the Jesuit educational philosophy was the spirituality inspired by St Ignatius of Loyola, founder of the Society of Jesus. The Jesuit educational ethos consisted of several strands which included caring for the individual; showing love in deeds; engaging with the wider world, and encouraging excellence. David de Caires accepted this as his personal code and therein were the wellsprings of his weltanschauung. He was profoundly influenced by Ignatian spirituality. The college inculcated a lifelong love of English literature, a deep concern for humanity and a spontaneous and genuine generosity of spirit in this student. Despite some physical discomfort at Stonyhurst, the philosophical doctrine made an indelible impression on his adolescent mind.
Thus imbued with a spirit of humanism, it was without enthusiasm that David de Caires ambled into the field of law. He attended Gibson and Weldon Law School in London, qualifying as a solicitor and was admitted to practise in Guyana.  Articled to his uncle, Edward de Freitas, a solicitor with Guyana's oldest law firm – Cameron and Shepherd, on High Street – he did not spend long and left to form the firm of de Caires & Fitzpatrick (later, de Caires, Fitzpatrick & Karran) with Miles Fitzpatrick.
The kindling of concern for the human condition was always present but the spark that ignited his professional fervour was the founding of the New World Group in 1960-61. As the political and security situation in the country worsened, the search for remedies intensified.  Concerned young people in the group held meetings; discussions prompted papers; papers opened the prospect of publishing a periodical and thus was born the New World series of journals.
David de Caires believed that the free expression of opinions, exchange of views and dissemination of ideas through printing would contribute to the search for solutions. So, the first issue of New World Quarterly, for which Dr Clive Thomas was officially recorded as publisher, appeared in March 1963. Uncharacteristically for a journal of political opinion, but typically for David de Caires, the cover carried the text of a poem by Aimé Césaire; inside, there were five others by Martin Carter. The New World Fortnightly followed the next year, 1964, and continued for fifty issues until January 1967. Its feature stories on the arts, drama, economy, education, politics, the press, sport and other topics were embroidered with drawings and interspersed with poems, each issue as much a cultural keepsake as a chronicle of contemporary news and views. And, finally, the magnificent New World Guyana Independence Issue in 1966 which was so costly to produce that it bankrupted the group and brought the entire New World series and de Caires's dreams to a glorious but impecunious finale. Nevertheless, his infatuation with publishing lingered.
The flawed elections of 1968 and 1973 and, by the late 1970s, the foundering dirigiste economy raised anxieties over the national situation. As the political and economic environment degenerated, de Caires became involved in a civic group called Compass which aimed at seeking solutions to the worsening crisis. The group, which included Mr Patterson Thompson, Chairman of the Bauxite Industry Development Corporation and several senior state corporation executives met in March 1979 at the Catholic Centre in Brickdam and published a 'Statement of Purpose.' The People's National Congress administration quickly demolished the group in a manner that strengthened de Caires's resolve to work for political change.
His courageous defence, along with Miles Fitzpatrick, of the low-circulation but highly-controversial Catholic Standard newspaper was possibly the most memorable accomplishment of his legal career. Under the editorship of the Jesuit priest Fr Andrew Morrison, the Standard had been sued for libel repeatedly by government officials, four such suits occurring in 1982 alone. To obviate a recurrence, David de Caires and Miles Fitzpatrick undertook, gratis, both legal representation in court and scrutiny of articles before printing. These helped to steer the Standard to safety.
When President Desmond Hoyte removed his predecessor's oppressive restrictions on the press, David de Caires felt that he had found a métier that matched his mission in life and decided to start a newspaper with the assistance and advice of Mr Ken Gordon, the Managing Director of Trinidad Express Newspapers. Meeting with Miles Fitzpatrick, John Simon de Freitas, Martin Carter, Victor Insanally and his wife Doreen, David de Caires led the team to launch Guyana Publications Limited (later, Incorporated), the company which would produce the Guyana's first, post-independence, privately-owned newspaper – the  Stabroek News.
David de Caires's passion for publishing, twenty years after the demise of the New World series, was undiminished. Inspired by the professional principles of presenting the news accurately and ensuring balance in reporting, he paid personal attention to the editorial content, particularly the letter pages which, by giving ordinary citizens the opportunity to freely express their views, he felt embodied the ideal of freedom of expression. In de Caires's eyes, the agenda for national recovery and reconstruction had expanded beyond national unity and had to include the restoration of an open society based on the rule of law, a free market economy and the holding of free and fair elections.
As chairman of the company and editor-in-chief of the newspaper at age 50, he adopted an arduous, laborious and rigorous regime.  He was inducted into the fraternity of free press editors in the Commonwealth Caribbean and became an ardent advocate of press freedom.  But, after the Stabroek News's first decade, a whiff of weltschmerz wafted through the editor-in-chief's office, dimming his earlier optimistic expectation that a democratically elected administration would always act in a democratically open-minded manner. That, however, did not diminish his own determination.
Official accusations against the Stabroek News of "professional irresponsibility… in publishing inaccurate and fabricated news" about President Cheddi Jagan's visit to Venezuela in October 1995 were designed to undermine the newspaper's solid international reputation and to damage the local perception of the newspaper's credibility.  And allegations by the first lady that de Caires was part of an "anti-government cabal" were as undeserved as they were untrue.
When, during President Jagdeo's administration, state advertising was arbitrarily withdrawn from the Stabroek News on spurious grounds and in a punitive way, de Caires was astonished at the malicious violation of the Declaration of Chapultepec on press freedom by a democratic state which had voluntarily signed it.  The governmental measures, he thought, were not administrative matters that could be ignored. In the context of the local media environment, they were an invasion of press independence and an attack on the citadel of freedom of expression itself; they threatened to demolish much for which he had fought for forty years. The ensuing battle for the restoration of advertisements enervated and exhausted him.
David de Caires became a reluctant celebrity as Editor-in-Chief of the Stabroek News, an independent newspaper that bloomed in an illiberal environment. He was called upon to deliver numerous addresses, write articles, grant interviews and participate in discussions on press freedom. His papers include 'Independence and Pluralism: Identifyng Obstacles' in UNESCO's Media and Democracy in Latin America; and among his addresses were 'Accessibility, Legislation and Media Responsibility,' delivered at the Caribbean Media Conference in Antigua; 'Free Speech and the Global Village' presented as part of the University of Guyana's 40th Anniversary Distinguished Lecture Series; and 'The Guyana Elections and the Aftermath: Challenges for the Media.' With Miles Fitzpatrick, he had published the article 'Twenty Years of Politics in our Land,' in the New World Guyana Independence Issue. There were more.
David Francis de Caires was born on December 31, 1937 in Georgetown, his father Francis Ignatius de Caires was  a Director of De Caires Bros Ltd, and the son of Salvador de Caires, a commission merchant and governing director of de Caires Bros Ltd, located in Robb Street, Lacytown.  David attended primary school at the Ursuline Convent and started secondary school at St Stanislaus College but spent only one year before leaving for Stonyhurst.
Baptised a Roman Catholic, his churchmanship escaped exact categorisation. More important than ritual worship, however, his day-to-day activities epitomised the Ignatian precepts that he learnt in his adolescence. Nothing in his upbringing indicated that de Caires was to become one of the most incorporative figures in Guyanese politics, mingling with equanimity with persons of contrarian opinions and beliefs. A traditionalist who for most of his life appeared to belong to no particular political party but passionately adhered to certain immutable principles, he was an advocate of liberalism but his actual loyalties always seemed to lie beyond the inflexibility of local interest groups. Astutely, he steered a course through the labyrinthine maze of local party politics without becoming lost amidst its endless controversies and mindless antipathies.
His courtesy to his colleagues and his kindness to acquaintances were extraordinary. A compassionate chief executive, he was solicitous about employees' living and working conditions. He tried to give young journalists opportunities for self-actualisation.
David de Caires's cultural interest was reflected in his membership of the National History and Arts Council in the mid-1960s and, more recently, his chairmanship of the Board of Trustees of the Theatre Guild Restoration Project. As team leader of the local organising committee and with a reputation for unshowy reliability, he worked tirelessly to bring about the Caribbean Media Conference in Georgetown in 2000.
He was affiliated to the Commonwealth Press Union, the Inter-American Press Association and the International Press Institute – international organisations devoted to protecting press freedom and encouraging professional standards of journalism, and was winner of the Guyana Press Association's award for the best editorial of the year in 1992 and the Commonwealth Press Union's Astor award for his contribution to press freedom. He was gratified to have been instrumental in President Bharrat Jagdeo's signing the Declaration of Chapultepec on May 24, 2002.
David de Caires is survived by his wife Doreen and two children, Brendan and Isabelle.
Around the Web