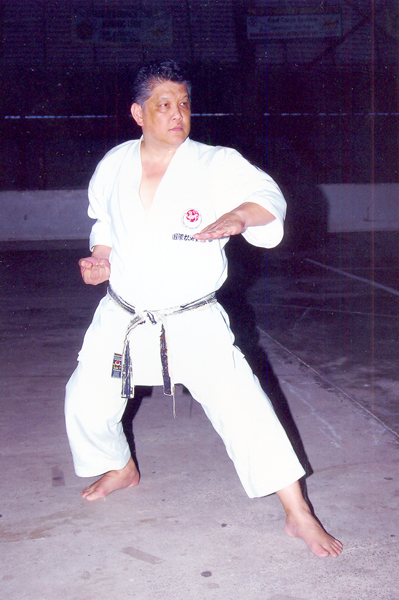 Master Frank Woon-A-Tai was recently promoted to an eighth dan black belt.
Woon-A-Tai, who attained his first dan black belt in Japan in 1971, was promoted at a Summer camp in Philadelphia earlier this month and on June 9, Woon-A-Tai was promoted to chief instructor, Examiner `A' Class.
Woon-A-Tai was graded by Japanese Masters  and 10th dan black belts, Terriyuki Okazaki and Hirokazu Kanazawa  and  9th Dan black belts Yukata Yaguchi and Shizan Masaru Miura.
Woon-A-Tai told Stabroek Sport via e-mail, that he was required to write a 30-page research essay.
"I presented by kata, Hangetsu, that was tailored for my age and body condition. The Masters chose another kata out of 26 for me to perform. Thus I had to practise and know them well."
Woon-A-Tai, who said he had to answer questions on the second kata,  was graded on both katas.
"I think it is a great achievement. It is the highest achievement by an individual around the Caribbean and throughout the Common-wealth," said Jeffrey Wong, a vice-chairman of the GKC and senior instructor.
Practioners at this level must show maturity in their physical and mental abilities. To be considered for these ranks, practitioners are required to have a distinguished service record  in contributing to the ideals of karate–do.
They also need to demonstrate a  mastery of the hidden and obscure techniques of karate-do. Finally, to be awarded these ranks, the candidate must present and defend an academic dissertation.
Woon-A-Tai, who has had a distinguished career, has satisfied all of the above requirements.
Born in Guyana on May 22, 1950, Woon-A-Tai is the founder of two organizations.
He is the founder and instructor of the Japanese Karate Association/Inter-national Shotokan Karate Federation  (JKA/ISJF) and the founder and chief instructor of the Guyana Karate College (GKC).
Woon-A-Tai holds the prestigious position of being a vice president of the  ISKA technical committee and  is also president of the Caribbean Karate  College and chairman and technical director of the ISKF Canada.
He was a Pan American karate champion in 1978 and  was awarded the French Guiana  Medal of Service in 1996.
Woon-A-Tai graduated from  the JKA/ISKF instructor training institute in 1989 and from the University of Toronto in 2004 with a Bachelor of Arts degree in Japanese Studies.
According to Lawrence Fanfair,  a member of the GKA, Master Woon-A-Tai is expected home next month for the 40th anniversary of Karate in Guyana.
According to Fanfair, the GKC is expected to stage a reunion which will include a dinner and sightseeing among other things.
Around the Web