The 'Hello Africa' parade will be the highlight of this year's Emancipation Festival scheduled for next Friday at the National Park.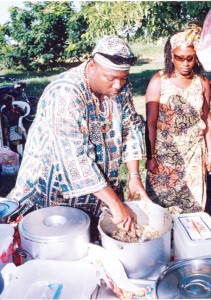 Emancipation Festival Coordinator of African Cultural Development Association (ACDA), Violet Jean-Baptiste told The Scene on Thursday that preparations are rolling along at a feverish pace as relates to the numerous activities planned.
The festivities will follow the same pattern of events as in previous years. However, a few new and exciting features are to be added to the programme of activities for this year's celebration of 200 years of freedom from slavery.
Starting yesterday, ACDA in association with the African Mystical Council began seven days of drumming and singing outside Demico House, Stabroek. On the seventh day, which will be next Thursday, July 31, a procession will leave the Stabroek area and march to the 1763 Monument at D'Urban Park where a midnight libation service will be held. At 5.30 am on Friday, August 1, a sunrise service will be held at the National Park to usher in emancipation.
As with the previous years, the gates of the National Park will be officially opened to the public at 10 am. A large number of booths with information on African history, craft, foods and a number of other things relating to the African culture will be on display.
It is customary that each year an African country and a local village are chosen to be the main feature at the park. This year Tanzania and Den Amstel were chosen to be the themes of the day.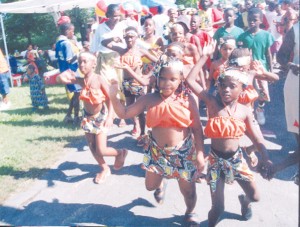 Around 3 pm a grand show themed the 'Hello Africa' parade will take place on the tarmac of National Park.
The show will consist of different groups showcasing the dress and other aspects of culture from the African continent. There will be addresses by African leaders and contributions from several overseas groups expected to come to Guyana for the event. These include the Sabiri 'fire dancers' of Suriname, a band and dancers from Brazil and a folk group from Trinidad. Numerous local Guyanese such as the Yoruba Singers, the Crystallite Dance Group, First Born, and Alabama are to make appearances on stage.
Additionally 15 sporting events will be held along with the usual Shanto competition and acrobatic show.
Gates prizes will also be handed out to lucky persons compliments of the Guyana Telephone and Telegraph Company. These prizes will include cell phones, bicycles and back to school items among others.
A day of wholesome fun and enjoyable activities for the family is what one can look forward to on August 1, Jean-Baptiste said, coupled with a good insight into the African culture.
Around the Web