On this second visit, the show would be me and the Barbadian singer/songwriter The Mighty Gabby.  Gabby and I have known each other for years, admired each other's work, and, more importantly, we've always liked each other as people – not always the case among performers in the ego-driven entertainment world. So as I talked with Rotary about planning the show, the thought came to me that Gabby and I had played on stages at separate times, but we had never performed together, so I phoned him and suggested we do some music together.
The result was that at the Barbados concert, held under floodlit trees in the open air at Holder's House, between Gabby's performance and mine, the two of us came together, just acoustic guitars, no band, not even a drummer, and did a sweet 15 minutes, fooling with some of the songs, ribbing each other about how we looked and moved on stage, and generally having a good time – two country boys from the Caribbean living and loving our culture.
I teased Gabby that in his song "Government Boots", if he had sung about tennis shoes instead of boots he wouldn't have gotten into so much hot water with the establishment. He teased me about one of my songs in a way that I can't repeat in a family newspaper, but call me up and I'll tell you about it.  I joked with him about his dreadlocks, and he was onto me about my Guyanese roots. The audience ate it up, and, frankly, so did we.  There is a mutual admiration between Gabby and me, and it showed.
In the two days before the show we also appeared together on several radio and TV programmes talking in detail about the songwriting process and how our view of life affects us as writers, and about culture in the region, and generally about who we are as people. It was a warm, loving exchange, and in the middle of it we would just look at each other and laugh. Some of the most famous names in Caribbean music can be pretty unsavoury characters – not people you want to spend a lot of time with. Gabby is not one of them – he's good company any time.
I'm relating this here to make the wider point that we don't do these kinds of inter-cultural things in the Caribbean, and it's a pity because the synergy that comes from it is usually the best kind – it's spontaneous, and combinations emerge that otherwise wouldn't.  On stage, Gabby's guitar style, for example, different from mine, causing me to play a song I've played for years ("You Can't Get") in a way I've never played it before.  We came at it in a new way, unrehearsed, right there on the stage and it worked.
Gabby, by the way, remains the boss in Barbados, as far I'm concerned. If you're looking for the Bajan essence, the songs he has written, many full of social commentary, come straight out of that country; they are striking slices of Barbados. One of his songs, "Emerton", recently voted the "Best Song" in Barbados over the past 50 years, is songwriting at its best – simple, powerful and emotional. If you hear Gabby sing it and you're not moved, you have water in your veins instead of blood.
But I digress. The point of this piece is that that kind of performer-to-performer exchange is something that should be happening more in the region.  North American artistes are constantly doing these kinds of combination performances, where accomplished people, strong in their own right, come together and create a one-of-a-kind moment.  In the Caribbean, perhaps bedevilled by our insecurity feelings, we shy away from such meetings.  Wouldn't it have been magical, for instance, to see Kitchener and Sparrow perform one of each other's songs in a casual unrehearsed way on the same stage at the same time?  Or for Marley to sing with Toots? Or for Gabby to sing David Rudder's "Haiti" and for David to sing Gabby's "Emerton" ?
Admittedly, the logistics of these things, particularly with big name performers, can become hairy to deal with, and then there can be personality clashes involved, but it's something that can happen with a little effort, particularly in shows these days in the region and outside.  In every one of those settings, the performers come on, pass each other like an exam, as they say in Trinidad, go up and perform, and pass again on the way out.
It will take some thought for the combinations to work, but with a little effort it can be done  and audiences love these combinations because they are rare and also because the circumstances usually make for some hilarious or touching interplay between the performers. We copy so much stuff from the Americans, we should copy their fondness for this kind of interplay between established talents.
In a time when we seem to be having more than a bit of difficulty in achieving congress among Caribbean nations, perhaps the place to start might be that cross-fertilisation among our artistes, away from the political and economic barriers.
Comments

By Mark Leonard LONDON – Over the last few weeks, media around the world have been saturated with stories about how technology is destroying politics.
CARACAS/HOUSTON (Reuters) – Venezuela's unraveling socialist government is increasingly turning to ally Russia for the cash and credit it needs to survive – and offering prized state-owned oil assets in return, sources familiar with the negotiations told Reuters.
By Carl Bildt CHICAGO – We are now in the final days of the industrial age.

During Men's Health Week, the man/woman in the street were asked to speak on their lifestyles and what they do to maintain their health or to encourage their significant others to lead healthy lifestyles.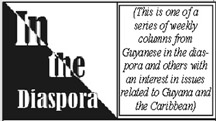 By The Caribbean Voice There are no reliable statistics on the amount of persons engaging in the use of illegal drugs or those described as addicts.