A section of the seawall close to the koker at Cornelia Ida, West Coast Demerara has collapsed and the earthen embankment is being eroded.
At high tide, waves burst past the collapsed concrete wall to pound the embankment. Viewed through a hole created as a result of the erosion, the washed away section looks much like a cave and while some sandbags have been placed at a hole created by the erosion, as days pass, the earth continues to be washed away and there are signs that other areas could soon collapse.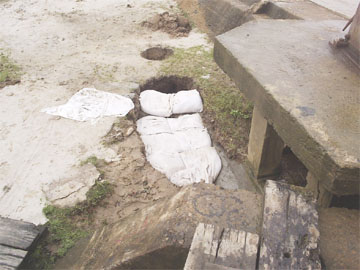 The koker does not fall under the purview of the Region Three Administration, Regional Chairman, Julius Faerber said. He told Stabroek News yesterday that it is the responsibility of the Guyana Sugar Corporation (GuySuCo) and is maintained by them. He declared that the Corporation had been filling the breach but noted that there is still lots more to be done.
The Regional Chairman told this newspaper that the Sea Defence Unit (SDU) has been called in to assist and is making arrangements to do some work. He added that both GuySuCo and the SDU have been doing remedial work.
This newspaper had been told that the collapse of the section of the seawall and the subsequent erosion occurred before November but Faerber said that it was about a month ago that the erosion started. He stated that upon being told, he informed the SDU.
When this newspaper visited the koker when the tide was rising yesterday morning, a resident pointed out that other sections of the embankment were being undermined and could soon collapse. It was noted that there were some other sandbags close-by, which were said to be there for use in filling the breach. But, this newspaper was told, there were some problems regarding the commencing of work and these included the availability of transportation for materials and manpower.
Around the Web