Heavy rain in December led to flooding in Canals Number One and Two polders over the past weeks but the water drained off last week and earlier this week but farmers have reported that they have lost crops.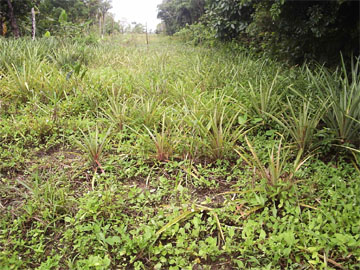 In Canal Number Two, residents told this newspaper that the water had finally drained off last week when the canal was cleared. Before, they said, whenever there was heavy rain, they experienced some degree of flooding with the water draining off intermittently. However, residents reported, in the backlands floodwater is still high and their crops have been affected.
Girdharry Narain of Canal Number Two said that his garden had been flooded and he lost "vine crops". While admitting that it was "not much", he stated that his nephews, who have large farms in the backlands were flooded with high levels of water and had lost crops. He told this newspaper that it was only last week when the canal was cleared of moss that all the water receded from his yard but there was still a build-up of water in the backlands. Narsingh, a pineapple farmer echoed Narain's comments. He stated that out of 10,000 pineapple plants 7,000 were affected by the floodwaters. He noted that there was still a lot of water in the backlands and crops that were not surrounded by water were still affected because the soil was soaked and the roots rotted. He said that the water drained intermittently but also stated that it was something that he had experienced ever since he started farming at age 13. "You can't do nothing about it really", he stated. He noted too that last week persons had gone to the community and taken down the names of farmers and their losses.  In Canal Number One, the water had drained off the land more recently; earlier this week. "When the rain fall, the whole backdam ah flood" said farmer Oddity Deodat. He said that since last month the water flooded the land and drained off intermittently but never completely and it was only a few days of sunshine that saw most of the water draining from the land.
He said that he planted about five acres of pineapple and cassava and these had been affected. He questioned why drains are only cleared during the rainy season. "They ah start too late with the work", he declared. He said that no-one had said anything about the flooding and the crops that were lost. He noted too that at various times, the water level had come to just below a foot at his home. Chandroutie Goberdan, a citrus farmer, who said that he had five acres of citrus plants stated that while his land was high, the soil was waterlogged. He stated that this affected the plants but the effects could not be seen immediately. He said that water accumulated in the low-lying spots and was not draining off.
Meantime, this newspaper was told too that there was water accumulating in the backlands in other areas such as Harlem, Ruimzeight, La Jalousie and Blankenburg and other areas. PNCR-1G Member of Parliament, Mervyn Williams had told Stabroek News on Wednesday that some rice farmers in these areas had been affected by high waters. He said too that after it was highlighted by him, some action was taken by the authorities to assist with drainage.
Meantime, the La Jalousie koker, which had developed a problem with its guidance strip, was supposed to be operable by yesterday, Region Three Chairman, Julius Faerber had told Stabroek News on Wednesday.
Williams had told this newspaper that the PNCR was actively engaging affected persons and said that three members of the party had indicated their willingness to work on the Region's flood committee.
Faerber said that at a statutory meeting of the Regional Democratic Council on Wednesday, representatives had been named to sit on the committee, the Regional Disaster Preparedness Committee. He said that the first meeting of the committee will be held by next Monday.
Around the Web