"This is a case of mistaken identity," stated attorney-at-law Nigel Hughes in his defence of Jamal Van Lewis, who is accused of robbing a man of a car valued $2M and selling it to a taxi-driver who in turn sold it to a policeman.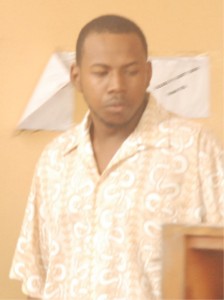 Van Lewis of 46 Bel Air Park, Campbellville was not required to plead to the indictable charge of robbery under arms when Magistrate Hazel Octive-Hamilton read it to him. Meanwhile, taxi-driver Regan Williams, 33, of 71 Ramos Road, Plaisance and the policeman, Randy Charles, 24, of 35 Field D1, South Turkeyen, both pleaded not guilty to the charge of receiving stolen property when Acting Chief Magistrate Melissa Robertson read it to them yesterday at the Georgetown Magistrate's Court.
It is alleged that on December 20 last year, Van Lewis being armed with a gun robbed George Boyce of a car, a radio, a music speaker and a car light, totalling over $2.1M.
It is also alleged that on December 24 at Plaisance, East Coast Demerara, Williams received the said car, knowing that it was stolen.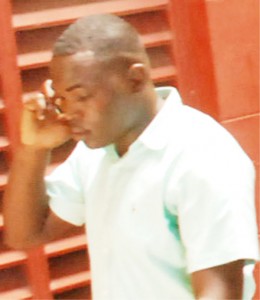 It is also alleged that on December 30 at Plaisance, Charles received the same car, also knowing that it was stolen.
Van Lewis's lawyer, Hughes, stated that the case was one of mistaken identity since the only evidence that the police had was of Van Lewis being picked out of an identification parade by Boyce at the Criminal Investigations Division, Eve Leary shortly after the car was stolen. He noted that two days after this, Boyce went to the East La Penitence Police Station and gave the police a statement that said that he had "made an error and it was the wrong person he had picked."  Hughes also stated that the prosecution had that statement in its possession and it was a clear indication that Boyce had no interest in pursuing the case against Van Lewis. The defence attorney then applied for bail, stating that Van Lewis had no previous convictions in the court.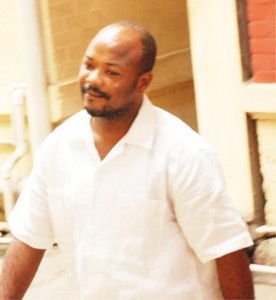 Prosecutor Desiree Fowler objected to the bail application on the grounds that Boyce had positively identified Van Lewis as the person who had stolen his car. She went on to say that Van Lewis then sold it to Williams, who in turn sold it to Charles. Fowler said it was not clear why shortly after the ID parade Boyce went to the East La Penitence Police Station to make the statement that Van Lewis was the wrong person he had identified, instead of going to CID where the ID parade was conducted. She said the case file was sent to the Director of Public Prosecutions (DPP) for advice which was subsequently given.
Magistrate Octive-Hamilton then ordered that the case file be sent back to the DPP for further advice.
Meanwhile, Williams's lawyer, Adrian Thompson and Charles's lawyer, James Bond both applied for reasonable bail for their clients on the grounds that the car was recovered and the two had no previous convictions. Bond then stated that Charles had obtained the car "by legitimate means" as he had rented it from Williams.
Though Prosecutor Denise Griffith made no objections to bail applications on behalf of Williams and Charles, she stated that on December 30 Boyce was driving through Eve Leary when he saw his car, which had been stolen, with a different licence number plate and tinted windows being driven by Charles. He immediately went to the police station and made a report. She said that from information gathered, the stolen car was pawned to Williams by Van Lewis. She went on to say that Charles had rented another car from Williams but that upon returning it two days after Williams had given him the stolen car to drive. She said Charles had not rented that car. The prosecutor also asked that bail sums should be granted in a substantial amount for both Williams and Charles.
Magistrate Octive-Hamilton ordered that Van Lewis be remanded to prison, while Magistrate Robertson granted Williams and Charles bail in the sum of $200,000 each.
They will all appear again in court on January 30.
Around the Web