Rotary International District Governor Georges Nouh-Chaia has expressed satisfaction with projects in Guyana and he lauded the commitment of Rotarians and Rotary Clubs across the country.
Among the ventures the district governor visited on a trip here were the Literacy and Numeracy project, the Potable Water Solar project at Kuru Kuru on the Linden-Soesdyke Highway, a Secondary School project at Skeldon, a mobile dental unit as well as a community development project in Buxton on the East Coast Demerara, all commissioned within the last two years.
Speaking at a press conference at the Georgetown Club on Thursday, at the conclusion of his four-day visit here, Nouh-Chaia said he was most impressed with the Buxton project as it focuses on youth development. The project was started in March 2007 and in its infancy, 30 students were enrolled with the aim being to provide a place for learning that is fun–filled for the youths of the community. Today, 300 youths are involved in the programme as community involvement has grown significantly.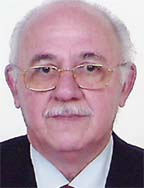 According to the district-governor, who has been a Rotarian for over 38 years, given the recent history of Buxton, the project also aims to provide positive images of the community and several  activities such as cultural pageants and life skills and formal coaching sessions were held within the past two years to achieve its aim.
Asked about funding of Rotary's projects, Nouh-Chaia indicated that the fund-raising activities conducted by the Rotary Clubs of Guyana contribute significantly. These activities include raffles, dances and fairs such as the International Bar, which is on its annual calendar of events. Additionally, a combination of funding from the Rotary Clubs of Guyana along with funds from international sister clubs as well as inputs from the Rotary Foundation form a collaborative effort to realize the projects.
Further, matching-grant projects are held whereby a local club prepares a report for a project, outlines its beneficiaries and plans for sustainability of same. This report is then forwarded to international sister clubs for assistance in funding the project. One such project is the Potable Water Solar Project which serves the community of Kuru Kuru on the Linden-Soesdyke Highway.
Special mention was also made of the assistance given to bring relief to flood affected communities across Guyana in addition to assistance given to Haiti after that country was vastly affected in the last hurricane season.
The district governor also noted that the format of a successful polio eradication project was being implemented to cope with HIV. The polio project was launched in 1984-1985 and 99% of its goals were achieved as of 1999.
At present there are approximately 1.2 million Rotarians worldwide in more that 200 countries. Rotary International has been in existence since 1905 and the humanitarian services provided by the organization are governed by 532 district governors in 32 geographical zones.
Around the Web