The Caribbean Community (CARICOM) Secretariat did not seek an increase of its 2008 budget and  overall work at the secretariat would mean "more effort for the same pay for the time being," Caricom Secretary-General Edwin Carrington said last week.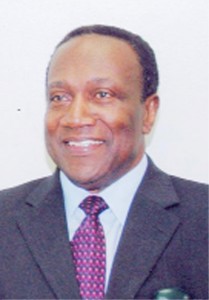 According to a press release from the Secretariat at Turkeyen, he was co-hosting a press conference on the outcome of the 23rd Meeting of the Community Council of Ministers held in Georgetown on Monday and with him were Chairman of the Council, Wilfred Elrington, who is also Minister of Foreign Affairs and Foreign Trade and Attorney-General of Belize; and Lolita Applewhaite, Deputy Secretary-General of Caricom. Responding to a query about a wage freeze,   Carrington said the Secretariat would continue to pay compulsory increases to those who are eligible and who qualify for increments. The Secretariat would also adopt certain measures including a cut in expenditure in certain areas and would "look carefully" at its recruitment.
The release said further that the Secretariat took a voluntary decision not to seek an increase over last year's budget figure of about EC$45.5M. The budget for 2009 was approved by the Council of Ministers last week. In addressing the opening of the meeting, Carrington indicated that the Secretariat had taken the "brave decision, despite an inflation rate of some eight per cent, not to request any increase in the budget for 2009 over that of 2008."
The decision, the release noted, was based on the fact that there is a global financial and economic downturn which is certain to have an impact on Member States of the Community.
"We are determined to strive to do as much as we can, with the level of resources made available to us in 2008," the Secretary-General said on Monday.
"We are going to take the squeeze more and more this year…," he added on Tuesday.
The Deputy Secretary-General added that the Secretariat aimed to use its money wisely, to get value for money from the resources of member states and international development partners.
She pointed out too that they had established a Strategic Planning and Monitoring and Evaluation Unit to look at the value the Secretariat is getting for monies spent.
Around the Web