Four policemen who allegedly attempted to obtain money from a man in a drug case were yesterday remanded to prison after making an appearance in the George-town Magistrate's Court.
Tyron Edwards, 38, John Blake, 24, Carl Ifill, 40, and Jason Odonogue, 23, all attached to the Tactical Services Unit (TSU) denied a charge of demanding money with menace with intent to steal when it was read by Acting Chief Magistrate Melissa Robertson.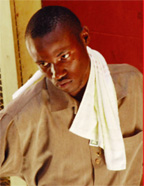 It is alleged that on Wednesday last, the quartet demanded the sum of $500,000 for the purpose of stealing and protecting Gavin Shepherd in order that he may avoid prosecution for the offence of trafficking in narcotics.
Crime Chief Seelall Persaud had told Stabroek News that the ranks were placed under close arrest after the allegation was made against them. Advice was subsequently sought from the Director of Public Prosecutions (DPP) on the way forward.
Several plain clothes and heavily armed uniformed officers as well as curious persons flocked the courtyard for the case yesterday. The quartet was expressionless during the proceedings which lasted for about five minutes.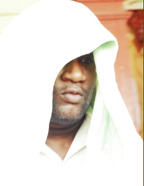 Attorney-at-Law Peter Hugh represented Police Corporal Edwards whose address was given as 203 Prospect, East Bank Demerara. The defence counsel also entered an appearance in association with Attorney Patrice Henry for Blake, a Police Constable of 3086 North Ruimveldt, Ifill, also a Police Constable who resides at 92 Canterbury Walk, Beterverwagting, East Coast Demerara (ECD) and Odonogue of 41 Sideline Dam, Nabaclis (ECD), also a Police Constable.
Hugh was unable to convince the court that pre-trial liberty ought to be granted his clients. In his submissions, Hugh said that "bail should be granted because of the fact that no money or drugs was found on the defendants." He further stated, "My Worship, caution statements were not given by my clients, nor did the police themselves take any statement from the defendants in this matter."
In making a case for bail to be granted, Hugh also said that "the defendants were not lined up in any identification parade nor did they have any confrontation with the virtual complainant.  All you have before you, madam, are allegations, it's a set up, the defendants pose no risk of flight and they all have minor children and I therefore ask that bail be granted," Hugh concluded.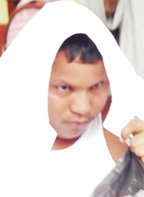 Police Prosecution Denise Griffith argued, however, that Hugh had his facts all wrong stating, "My worship, these are not allegations." "When the dragnet was set two of the defendants made an escape bid and when apprehended $200,000 from the said $500,000 was found." She added also that when one of the defendants was being searched by police ranks another portion of the money fell out of his bulletproof vest."
Bail was subsequently refused and their matter was transferred to Court Three for February 16 for statements.
Around the Web