Abary residents are calling again for the de-silting of the mouth of the creek to help improve drainage in the area.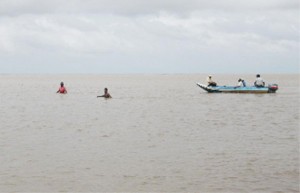 Floodwater in the Abary Creek took a long time to finally recede after the December/January rain and residents and an official from the MMA/ADA visited the mouth last week Sunday to check the extent of siltation.
They pointed out that the creek was blocked in five places – marked by tree stumps – and that this contributed to the clogging of the river and reduced flow downstream. They are pleading for it to be cleared before the next rainy season begins.
At the time of the visit the water was stagnant but residents related that a few days later the water receded completely. They told this newspaper that they are tired of losing their crops and livestock to a disaster which can be avoided.
During the visit, which was coordinated by a resident of the creek, Mahase Prahalad, he and another farmer jumped out of the boats and into some sections of the river mouth to prove how badly clogged it was and stood in waist-deep water.
He [Prahalad] had told President Bharrat Jagdeo during his visit to the creek early last month that if the creek is dredged the water would flow effectively.
He mentioned too that in March last year he "fight up" for the creek to be dredged and within four days the water started to drain.
The president then gave instructions for the dredging to continue but farmers were disappointed that nothing was done.
This newspaper learnt though that an official from the Mahaica, Mahaicony, Abary-Agricultural Development Authority (MMA/ADA) submitted a proposal with three dredging options to the Ministry of Agriculture for approval and that the work would commence after that procedure.
Prahalad told Stabroek News that the water remained stagnant for a long time and was causing residents to suffer various ailments.
He said a medical team visited the area about three times and he is asking for them to return as residents, especially children are still getting sick.
He had pointed out that the residents normally depend on the creek water for household purposes but because animals had died and were floating in the water it is not safe to use.
He said however, that the residents have no choice but to use the water because not all of them are fortunate to have tanks.
He said too that the remaining animals cannot drink the creek water because of the green moss which has started to take over sections of the creek and has caused the animals to become sick.
He said residents were happy too that the vets from the Ministry of Agriculture had also visited and treated the sick animals.
Around the Web