-in De Willem halted funeral case
A mother of three who allegedly murdered her reputed husband last week Friday was remanded to prison yesterday when she appeared before Acting Chief Magistrate Melissa Robertson at the Georgetown Magistrate's Court.
Forty-eight-year-old Lackrajie Sitaram, called 'Lolyn', of 224 Area 'G' De Willem, West Coast Demerara, was not required to plead to the indictable charge of murder.
It is alleged that on February 20 at her home, Sitaram murdered her reputed husband Bissondial Dhanpaul, also known as 'Sona' and 'Malik'.
However, according to Sitaram, Dhanpaul suffered an accidental death. She said that "I does wuk selling de lil food and when I come home every day with de money he (Dhanpaul) use to thief it and spend it."  She noted that Dhanpaul was an alcoholic and that he was also unemployed.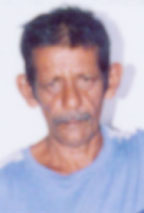 She said that on the day in question she was asleep when the sound of footsteps woke her up and "I see he (Dhanpaul) holding de tin that I does put me money in."  She stated that she asked him what he was doing with it and attempted to snatch it from him. Sitaram noted that he chucked her and it was when she chucked him back that he fell and hit his head on a piece of wood. She also stated that when he got up he went straight to the kitchen for a cup of water and that when she went to check on him he told her that "he nah feeling" good. She stated that she went back to the bedroom and when she returned to the kitchen sometime after, she shook him but he was already dead.
The magistrate subsequently ordered that Sitaram be remanded to prison and transferred the case to the Leonora Magistrate's Court for March 3.
Dhanpaul was finally laid to rest yesterday.
According to the post-mortem report Dhanpaul  died from blunt trauma. His funeral on Tuesday had also been halted because, according to a police press release, the force had received information that the incident might have been a case of murder.
Dhanpaul was pronounced dead on arrival at the Leonora Cottage Hospital last Friday, the press release stated and a medical certificate had given the cause of death as hypertension.
According to the police, Dhanpaul had complained of feeling unwell the day before he was taken to the hospital. However, based on new information received the police halted the man's funeral and ordered a post-mortem.
The post-mortem was conducted by pathologist Nehaul Singh who gave the cause of death as "haemorrhage of the brain due to blunt trauma". After the post-mortem results were released Sitaram and the son of Dhanpaul were taken into police custody.
Around the Web