The survivor of the Saturday night Agricola Public Road accident, which left another man headless, remains in a serious condition at the Georgetown Public Hospital (GPHC).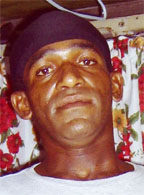 Bruce Waddell of 129 Cato Street, Agricola sustained severe head injuries that night while his friend, Terrence McKend, was decapitated. Waddell's mother told this newspaper yesterday that the man is still a patient in the High Dependency Unit (HDU) at GPHC.
Waddell, 30, and McKend, 54, of 114 Third Street, Agricola were on a bicycle which reportedly collided with the truck. The truck driver, Irwin Stephen, had told this newspaper that he was proceeding north along the East Bank Highway when the two men on the bicycle sped out of a side street into his path.
Stephens had reported that he'd blown his horn and tried to pull out of the men's way but despite his best efforts, they still collided with the side of his truck. The truck driver had said that he believed that the men fell from the bicycle and it was then McKend's head was crushed by the back wheel of the truck.
Relatives of Waddell told this newspaper that while the man's condition is still sensitive they are positive that he will recover. Waddell, they said spoke to them during their visits yesterday and "seems to be coming along".
"He was bleeding through his ears and nose but the only visible injury he got is a few bruises on his right side cheek," the injured man's mother, Marlyn Waddell, reported yesterday.
The woman further said that on the night of the accident an employee from the Ministry of Public Works had spoken to them. Marlyn said she feels the Ministry should have taken an interest in her son's well-being since it was their vehicle which almost cost his life.
Around the Web