Call it the dance of death. A 30-year-old father of three succumbed at the Georgetown Public Hospital (GPH) yesterday after being stabbed at a wedding in a dispute over who was the better dancer and three men are in police custody.
Dead is Anil Persaud, a dray cart operator, of Bella Dam, Pouderoyen, West Bank Demerara. The police, in a statement said that they are investigating the murder.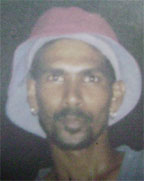 Police said that Persaud was at a wedding celebration at Independence Street, La Grange when the incident occurred at about 12.30 am yesterday. Investigations revealed that he became involved in an argument with a group of men over who could dance better and the argument developed into an altercation during which he was stabbed to his right side, the police said.
The injured man was taken to the West Demerara Regional Hospital (WDRH) from where he was transferred to the GPH. He underwent surgery and died at 12:30 pm yesterday following the surgery.
His wife of ten years, Rubena Persaud, her face stained with tears, told Stabroek News that she does not know the exact circumstances as to how the incident occurred. She said that on Saturday, she was assisting at the wedding of her niece and her husband arrived there later that evening. The wedding was in session, with many drinking.
As relatives set up a shed in preparation for the wake, the grieving woman said that when the incident occurred, she was putting their children to sleep when someone shouted "Anil get stab".
She rushed out and saw her husband in the arms of his brother with blood streaming out of his right side. Rubena recalled that Persaud was crying out in pain and they rushed him to the WDRH. He was then transferred to the GPH, due to the severity of his injury. He underwent surgery, the woman said, and she was told that his lungs, kidney and liver were severely damaged. Following the surgery, he died at about 12:30pm.
Police said that two other men suffered injuries and have been admitted to the GPH. The matter had been reported and three men were arrested and are in custody at the La Grange Police station, assisting with investigations.
Persaud, who is the father of three children, ages four, six and eight also leaves to mourn other relatives and friends. Rubena described her husband as a "very quiet person".
Around the Web