Bandits broke into the office of the Head Mistress (HM) of the Tucville Secondary School around 3 am yesterday and made off with one computer, a printer, a television, a stabilizer, ink and padlocks among other items.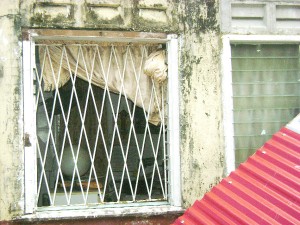 When Stabroek News visited the premises, repairs were being conducted on the window through which the bandits gained entry. The school which is provided with security by the On-Guard Security Service had two security guards on duty at the time of the incident.
Winston Harding, supervisor at On-Guard told this newspaper that he was called out of his bed and told what had happened about 15 minutes after the incident occurred. He said that because the guards had not been given "proper protection to execute their duties, they were told to always stick together in the event of if anything serious were to occur." The guards at the school had batons as their only form of protection.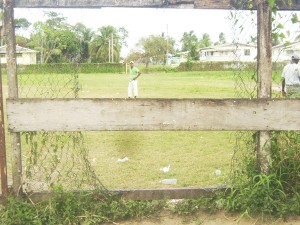 The guards were in front of the school's compound when the bandits made their way in from the back through some huge holes which were made in the chain link fence. According to Harding, he was told that the female guard on duty was feeling unwell when she heard noises coming from the back. The male guard decided to investigate and was confronted by the bandits who, according to what Harding was told by the male guard, "were fully armed with guns."
No one could ascertain how many bandits there were and reports are that they wore masks.
According to Harding, "the bandits gained entry into the HMs office by removing the louvre panes and detaching an entire window frame carrying a grill", which, according to him, "came out easily because of faulty work done by whoever the contractor was that installed the window in the first place."
According to Harding, repeated calls were made to the East La Penitence Police Station but the only response was that no patrol was available at the time. The supervisor went on to say that it was not until later in the day that the police visited the school and commenced their investigations.
No arrests have been made as yet.
Around the Web