– GPL
The Guyana Power and Light (GPL) says while it has received the test results of samples of contaminated fuel sent to Trinidad to determine who was responsible for it becoming tainted it will not reveal the results until a meeting is held.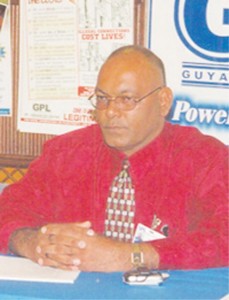 In an interview Managing Director Bharat Dindyal said the meeting will be held some time soon. He did not disclose who the attendees would be.
At the end of January President Bharrat Jagdeo told a press conference that he had ordered a full investigation into the contamination.
Contaminated fuel had been delivered to the Anna Regina power station and had caused extensive power outages on the Essequibo Coast from January 10 to 14.
In a press release GPL had said that the outages were due to "a batch of fuel that was received at the Anna Regina Power Station over the weekend being contaminated." GPL had said that engineers at the power station discovered that some mechanical problems had developed on the two Wartsila units as a result of the contamination and it had flown in a high level technical team and spare parts to effect immediate repairs to the engines.
The company had said that it was working along with the shipper responsible for the movement of the fuel from Demerara to Essequibo to determine how it had become tainted.
In another statement GPL had said that the contamination occurred at Anna Regina while adding that on January 9, 4,000 barrels of heavy fuel oil were dispatched in two equal shipments to the station. Fuel was also sent on January 14. It had said that both shipments arrived at the plant contaminated with water and "some foreign solid matter".
The statement had said that samples were taken and dispatched to Trinidad for testing as Guyana had limited means for such testing and local facilities cannot determine sodium content.
BK International had been responsible for shipping the fuel and in a letter to the newspapers responding to a Kaieteur News article, the company had accused the newspaper of seeking to convey the "false impression" that it was responsible for the contamination of fuel delivered by its vessel to GPL's Essequibo power station.
BK's Office Manager Egan Bazilio had said in the letter that as a result of the meeting held with the GPL management it was agreed that a series of tests would be conducted on the fuel.
Around the Web