-emphasise value of standing forests
Caribbean legislators yesterday agreed at a meeting on renewable energy and climate change that the value of standing forests as a sink for CO2 must be emphasized and they were enthused at a Nevisian project where geothermal energy will be exported to sister island, St Kitts.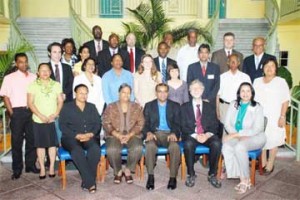 According to a communiqué from the two-day e-Parliament forum, the 19 legislators – from The Bahamas, Barbados, Belize, Dominica, The Dominican Republic, Haiti, Jamaica, St Kitts and Nevis, St Lucia, Trinidad and Tobago as well as Guyana – heard presentations on solar, wind, hydro and geothermal energy.
The Denmark-based e-Parliament is aimed at spreading productive policy ideas among democratic parliamentarians and helping to build broad coalitions to implement those ideas.
The conference at the Grand Coastal Inn was held under the theme `Climate Change and Energy Access'. The forum was supported by the European Commission and the Swedish International Development Cooperation Agency.
The emphasis on the importance of standing forests is something that is crucial to Guyana in particular and President Bharrat Jagdeo has been campaigning for this country's forests to be recognized and compensated for the climate services they provide. President Jagdeo was also at one of the sessions yesterday.
Legislators also agreed that the trade in energy should be promoted in clusters and in this regard they were interested in a geothermal project on the isle of Nevis. The first phase of the project entails a 40 MW power station which will be operable in 2010 and which will export power to St Kitts in 2011.
"In the second phase, capacity will be doubled in 2014 to 80 MW so that power can be transmitted using high voltage direct current lines to other islands: initially the Virgin Islands but there has also been interest from The Dominican Republic, Puerto Rico and Jamaica. The legislators hoped that other groups of islands could develop a similar trade in energy", the communiqué noted.
Guyana has been considering various renewable energy options but not much progress has been made. A wind energy project for the East Coast of Demerara – not far from where the two-day meeting was held – has been on the cards but has stalled. So, too, has an ambitious hydroelectric power project as a result of the global financial crisis and other issues. A bio-fuel project at the Skeldon estate is intended to supply energy for the big sugar expansion project there.
The communiqué also agreed that Caribbean countries should draw up action plans for renewable energy and work on anticipating the problems of rising sea-levels by identifying potential resettlement scenarios.
It was further agreed that regional countries should focus on small-scale energy-saving projects which could have a big impact without too much investment. Solar water heaters in hotels was cited as one example. It was also agreed that government buildings should be made an example by making them energy efficient.
Also agreed was for Caribbean countries to create feed-in tariffs where appropriate.
"Feed-in tariffs impose a legal obligation on utilities and energy companies to purchase electricity from renewable energy producers at a favourable price per unit, and this price is usually guaranteed over a certain time period (usually about 20 years)", the communiqué said.
The need for a unified policy on climate funding measures such as the Clean Development Mechanism and Reducing Emissions from Deforestation and Degradation was also agreed. This united voice would help to ensure that smaller countries got their fair share of funding, the communiqué noted.
The legislators also agreed that it was important to emphasise the need for community sensitization to renewable energy since the public at large did not understand the need to transition to renewable energy.
At Saturday's session Executive Director of e-Parliament Jasper Grolin also addressed the gathering and he pointed out that the effects of Climate Change were a major concern. He explained that the Caribbean region was a region that was vulnerable to the negative impact of climate change. He stated that the main objective of this conference was to encourage legislators to adopt policies that would reduce the impact of this phenomenon.
Grolin said that the Caribbean territories as well as other developing countries needed to consider alternative energy sources as opposed to fossil fuels and said that according to reports the region may want to consider investing in Geothermal Energy. Geothermal Energy is derived from heat from the earth.
He, however, pointed out that cost was an important factor when considering what alternative energy sources and emphasized that this was something that needed to be carefully assessed based on available resources.
Saturday's session included presentations on Climate Change and its impact on the Caribbean by Dr Ulric Trotz, Renewable Energy Options by Dr. Indra Haraksingh, Geothermal Energy in the Caribbean by Kerry McDonald, while Trevor Byer presented on Sub-Regional Clusters and Pathways to Regional Energy Integration in the Caribbean.
Around the Web