The Inter-American Develop-ment Bank (IDB) yesterday announced a projected decline in remittances to Latin America and the Caribbean for 2009, indicating a likely reduction in a key source of revenue for the local economy.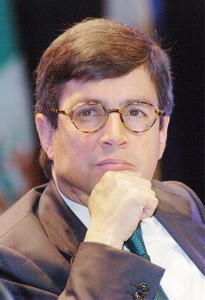 The latest estimates for remittances presented by the bank's Multilateral Invest-ment Fund (MIF) predict a decline, the first since it started tracking remittances to the region in 2000. The IDB said the decline would likely result in a greater demand on social safety networks by families which rely on money from abroad to cover basic expenses. "While it is too early to project by how much remittances may decline in 2009, this is bad news for millions of people in our region who depend on these flows to make ends meet," IDB President Luis Alberto Moreno said yesterday at a news conference, where the MIF's estimates were presented. "The issue has become more complex, as more factors have come into play. The world is facing its worst economic crisis in recent memory. Unemploy-ment is rising in industrialized nations. The climate against immigration is becoming harsher. Even exchange rate fluctuations are playing a larger role than before," he noted.
Last year Latin American and Caribbean expatriates transferred some $69.2 billion to their homelands, 0.9% more than in 2007, according to the MIF. It explained that the break in the upward trend took place after the first half of 2008. There was a flat third quarter and in the fourth quarter remittances dropped to $17 billion, 2% less than in the same period of 2007. For the few countries that have reported data for January, the bank said, totals were down by as much as 13%.
The projection has significant implications for Guyana, which has led Latin America and the Caribbean in remittances receipts as a percentage of Gross Domestic Product (GDP), with US$424 million constituting 43 per cent of GDP received in the previous year.
During his presentation on the 2009 Budget, Finance Minister Dr Ashni Singh said private transfers were projected to decline by 20.9% this year, which he attributed to lower worker remittances and in-kind transfers given the downturn in the global economy. Meanwhile, last year President Bharrat Jagdeo had also indicated that the inflow of remittances could be affected by massive layoffs in the US as unemployment was going up.
According to an IDB news release, the bank has been advising borrowing member countries since before the crisis exploded on strengthening their social programmes.
After many years of persistent growth, remittances to Latin America and the Caribbean came under pressure in 2008 as major source countries, including the United States, Spain and Japan, fell into recessions, it said, adding that industries that employ foreign workers, such as construction, manufacturing, hotels and restaurants have been especially hard hit.
Further, remittance senders and their beneficiaries back home were also hurt by last year's spike in oil and food prices, which further eroded their incomes. In addition, exchange rates swings started to have greater influence than in the past, especially in countries that experienced sharp devaluations or have large expatriate communities in Europe.
The bank noted that the Mexican peso and the Brazilian real have lost ground against the US dollar in recent months. As a result, remittances from the US to those countries have in-creased their purchasing power, offsetting at least in part the decline in volume.
Countries in the Andean region that receive significant amounts of money from Spain benefited from the strong euro during the first half of 2008 but since then have been hit by declines in the European currency. Meanwhile, Central Ameri-can countries, which are either dollarized or have currencies pegged to the US dollar, are more protected from exchange rate fluctuations.
Despite the bleak outlook, the MIF sees scant evidence that migrants are ready to return en masse to their countries of origin, the release, however said. In Spain, it noted, where there are some five million foreign workers, a government plan to pay welfare benefits in a lump sum to people who return to their homelands has attracted few takers. "Migrants have proven that they adapt to tough conditions," Moreno said. "They change jobs, work longer hours, cut back on spending, move to another city and even dip into savings in order to continue sending money to their families," he added. "Going home is usually a last resort."
The MIF is currently conducting surveys with banks and money transfer companies and working with think-tanks involved in polling migrant workers to obtain more detailed and first-hand information on how remittance flows may evolve this year.
For the MIF, which emphasizes microenterprises as a development tool to reduce poverty, the crisis provides an opportunity to bring more families who receive remittances into the formal banking system.
MIF General Manager Julie T. Katzman said most of the money sent home by migrants pays for food, clothing, medicines and housing, providing families with relief from economic hardship. However, fewer than half of these households have bank accounts where they can keep their savings. "Once basic needs are met, what could be the truly transformative potential of remittances is all too often left under the proverbial mattress," Katzman said. "Offering the families of migrant workers access to the basic financial services we all take for granted will allow them to maximize the benefit of their remittances.
"From simply having a bank account to obtaining microcredit, insurance or a loan for housing or the education of their children, these services can empower families to advance on the road to financial independence," she added.
The MIF will continue to work with central banks, financial regulators, banks, credit unions, microfinance institutions and money transfer companies in Latin America and the Caribbean to find new ways to maximize the economic impact of remittances, the release said.
Around the Web